Pictured Rocks National Lakeshore: An Idyllic Michigan Destination For All Seasons
The shores of Lake Superior are something to behold, with breathtaking scenery that changes along every mile. You can explore pristine lakeside beaches, naturally sculpted sandstone cliffs, and cascading waterfalls. It is a land of inland lakes, deep forests, and a shoreline that lets you explore a variety of ecosystems. One of the greatest natural wonders in the US, Pictured Rocks National Lakeshore in Michigan is the perfect destination for camping, hiking, or going for a weekend sightseeing excursion. Thes Pictured Rocks National Lakeshore photos are bound to impress you!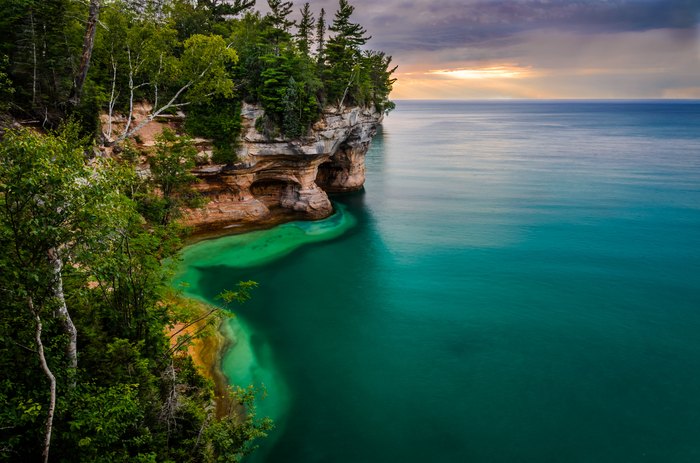 Between the beautiful views, unique natural features, and nearly endless activities available at Pictured Rocks National Lakeshore, it's clear that this is a true hidden gem along the nation's northern coast. Just don't forget a camera when you come to explore!
General Information:
Accessibility: Although ice and snowy conditions can make parts of the park inaccessible during winter, Pictured Rocks administrators have worked hard to create an environment that is wheelchair accessible via several paved trails and overlooks, handicapped-accessible campsites, picnic sites, and beachside paved sidewalks. Interagency Visitor Center, Munising Falls Interpretive Center, and Miners Castle Information Station in Munising, as well as the Grand Sable Visitor Center in Grand Marais, are all wheelchair-accessible. For more accessibility information, visit the official website.
Pet Friendly: Pets are allowed in certain areas of the park, but not all of them. Watch for signs. All pets must be on a six-foot leash at all times.
Parking: You can access the west side of the park via Michigan highways M-28 and M-94. You can also access spur roads off Alger County Road H-58 that lead to parking spaces next to overlooks, trailheads, beaches, and campgrounds.
Seasonal Access: You can explore this park any time of the year, and there are activities for every season and type of outdoor adventurer. Some roads and access points may be closed during the winter. It is closed during major holidays.
Cost: The park costs no fees, but they do sell America the Beautiful Passes. Special programs and tours may have a small fee. You can learn more on the National Park Service website here.
Feeling inspired to fill up your Bucket List? Check out our previous features of Red River Gorge in Kentucky, Big Bend National Park in Texas, and the beautiful Columbia River Gorge in the Pacific Northwest, then subscribe to our weekly Bucket List newsletter to discover new destinations across the country that definitely deserve a visit.
OnlyInYourState may earn compensation through affiliate links in this article. As an Amazon Associate, we earn from qualifying purchases.
More to Explore
Pictured Rocks National Lakeshore in Michigan
What is there to do on the upper peninsula of Michigan?  
Some attractions in the upper peninsula of Michigan include:
Tahquamenon Falls
Ann Arbor
Mackinac Island
Grand Rapids
Porcupine Mountains
The upper peninsula of Michigan is a magical, underrated place. It doesn't seem to get the love it deserves, and we think that's a tragedy. There are lots of things to do up there – you just need to know where to begin! We love, for example, the magic of Michigan's tallest peaks at the Lake of the Clouds, which you'll find within Porcupine Mountains Wilderness State Park. Alternatively, head out to the southern edge of the Keweenaw Peninsula and seek out the sands of Bête Grise. They are a rare "singing sand" in Michigan and they are an experience to be had! Visit small towns, enjoy state parks, and lounge at the lake – the opportunities in Michigan's upper peninsula know no bounds.  
Where are the Pictured Rocks on the upper peninsula?  
Pictured Rocks is short for Pictured Rocks National Lakeshore, and you can find it on the southern shore of Lake Superior in the upper peninsula. It is quite unique, geologically speaking, and you won't find any other lakeshores in Michigan quite like this one. And while you're here, you can't miss the peaceful serenity of the birch forests nearby the shore – you'll fall in love with Michigan all over again while immersed in its natural wonders.  
What are the most beautiful places in Michigan?  
Some of the most beautiful places in Michigan include:
Kitch-iti-kipi
Lost Lake
Rock Harbor Lighthouse
Isle Royale National Park
Mackinac Bridge
Michigan is beautiful – just ask anyone who's been there! Some of the most beautiful places in Michigan sure to blow your mind include the pristine shores of Sleeping Bear Dunes National Lakeshore, which is on Lake Michigan. We also adore Grand Haven State Park, which feels more like the ocean than a lake, and if you were wondering whether or not there's such a thing as islands in Michigan, there is! Check out the breathtaking beauty of Fisherman's Island and indulge in some of our most amazing scenery.  
Related Articles
Featured Addresses

Pictured Rocks National Lakeshore, Michigan, USA