The 9 Best Backroads In Michigan For A Long Scenic Drive
While there are plenty of wonderful ways to explore Michigan by foot, sometimes you just need to get in the car and drive. Whether you're looking to unwind, take your mind off everyday life, or simply catch some of the most beautiful views in the state, you'll find pure bliss along the best scenic drives in Michigan. Not sure where to start? No worries! Here are nine scenic roads to follow in Michigan when you're ready for an incredible journey: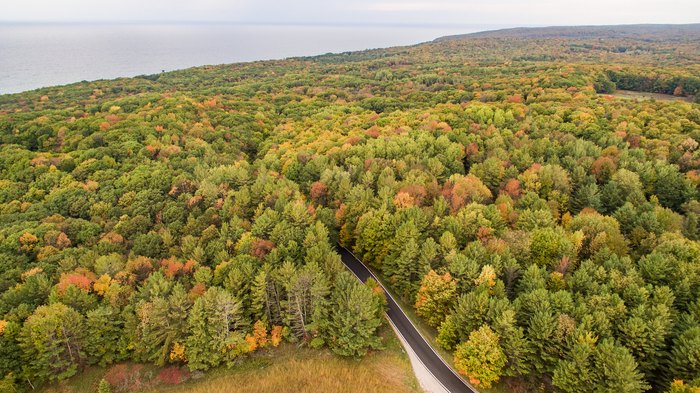 Have you traveled along any of the best scenic drives in Michigan? Did we leave your favorite back roads off our list? Share your thoughts in the comment section below!
Craving more scenic beauty? Embark on a road trip through The Great Lakes State for endless beauty and fascinating destinations.
OnlyInYourState may earn compensation through affiliate links in this article.
Address: State 119, M-119, Harbor Springs, MI, USA
Address: M-65, Michigan, USA
Address: M-123, Michigan, USA
Address: Michigan 22, M-22, Frankfort, MI, USA
Address: US-2, St Ignace, MI, USA
Address: US-23, Sylvania, OH, USA
Address: M-28, Marquette, MI, USA
Address: Pierce Stocking Scenic Dr, Empire, MI, USA
Address: Brockway Mountain Dr, Michigan, USA
Best Scenic Drives In Michigan
April 05, 2020
What are the best roadside attractions in Michigan?
The Mitten State, nicknamed for its iconic shape, is understandably quirky. With 96,716 square miles of landscape and the personalities of over 10 million residents contributing to Michigan's unique atmosphere, there's much to see and do in our unusual state. One of the more surprising, yet perfectly understandable in retrospect, things that you may discover along your travels is a collection of roadside attractions in Michigan. You might spot a dinosaur "zoo," a giant tire, and a 52 foot tall Native American that's one of the tallest such statues in the nation.
Are there any other scenic backroads to drive along in Michigan?

Here in The Great Lakes State, you'll find that there are several scenic backroads in Michigan that are worth exploring. You'll find that every rural town has them, and some are more beautiful than others. For endlessly beautiful views, check out our scenic beach towns in the Northern portion of the state.
Are there other similar things to do in Michigan when you have a free afternoon?
There are many things to do in Michigan, and visitors often find that our state is something of a hidden gem when it comes to tourism. You'll find an abundance of outdoor fun, especially when it comes to hiking in local parks. If you're craving something truly spectacular, check out a local waterfall or two. Each has a certain sort of beauty that can only be found in the natural world, and each is pure, untamed Michigan at its core. Lace up your hiking boots and prepare for adventure, because our landscape is sure to leave you enchanted.