Best Hiking Spots In Maryland: 38 Must-Do Trails And Adventures For Your Hiking Bucket List
One of the smallest states in the country, what Maryland lacks in stature, it more than makes up for in natural beauty, historic significance, world-class attractions, and… pretty much everything else.
The Old Line State measures 12,406 square miles, making it the ninth smallest state in the U.S. But don't be fooled; Maryland is 12,406 square miles of pure, unadulterated scenic splendor.
Because you see, within Maryland's 12,406 square miles, there are 53 State Parks, 25 Natural Resources Management Areas, seven Natural Environment Areas, three Rail Trails, and two State Battlefields.
And within these areas, there are hiking trails — hundreds and hundreds of hiking trails. This Mid-Atlantic state is defined by its abundant waterways and coastlines on the Chesapeake Bay and Atlantic Ocean, as well as its foothold in the Appalachian Mountains, including trails that connect to *the* Appalachian Trail.
There are waterfall hikes in Maryland and seaside strolls in Maryland. There are forested treks in Maryland and backcountry excursions in Maryland. There are riverwalks in Maryland and boardwalk trails in Maryland.
Whatever you're looking for out on the trails, you'll find it in Maryland. And today, we're going to prove it, with the following guide to the best hikes in Maryland for your hiking bucket list. And before you go, don't forget to check out our recommendation for hiking essentials!
Best Hikes In Maryland
If there's one thing we can all agree on, it's that we could all benefit from more time outdoors. And hiking really is the best way to experience Mother Nature's most sublime scenery.
Whether you're an experienced outdoor enthusiast or newbie hiker, you're sure to find your perfect trek in Maryland.
Looking for a short-and-sweet hike for the whole family? An all-day hiking adventure in some of the country's most immense natural wonders? Need an ADA-accessible trek for all the members of your party? Or perhaps you're a helpless waterfall chaser looking for the perfect waterfall trek (guilty!).
You'll find it all – and more – in the Old Line State. Ready to hit the trails? Here are some of the best all-around hiking trails in Maryland, and they truly are treks for everyone.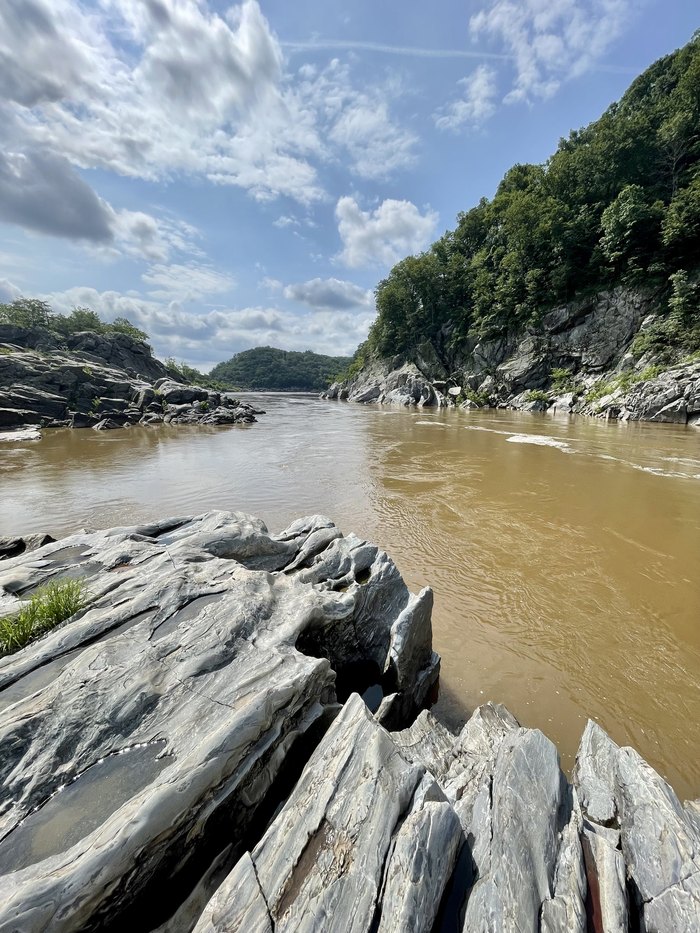 Best Short Hikes In Maryland
You don't have to be an advanced hiker to hit the trails in Maryland.
In fact, many of the state's most marvelous natural wonders are easily accessible via short, sweet, and super scenic trails.
Whether you're a beginning waterfall chaser or simply chasing after your kids, the following are some of the best easy hikes in Maryland that anyone can enjoy.
Best Waterfall Hikes In Maryland
In terms of waterfalls, Maryland might not be as well-known as some of its Mid-Coast siblings, but that doesn't mean they don't exist… or that the falls in the Free State are any less fabulous.
In fact, Maryland is home to some drop-dead gorgeous waterfalls; the kinds of cascades sure to stop you in your tracks.
In Swallow Falls State Park, the waterfalls are plentiful, resplendent, and easy to access; Cunningham Falls is a loud and proud, 78-foot wonder anchoring the eponymous Maryland State Park. There are numerous seasonal falls and countless hidden gem falls in Maryland, and what they all have in common is that the hike, or chase, is nothing short of sensational.
Here are the best waterfall hikes in Maryland, and we recommend indulging your waterfall chasing wanderlust and tackling them all!
Best Hidden Gem Hikes In Maryland
The spirit of exploration and discovery runs deep here in America, and avid hikers will tell you there's nothing like traipsing into the unknown, exploring the far corners into which most don't venture.
You don't have to go off the grid, or, in many cases, even be an experienced hiker to embark on many of these adventures; some of the best hidden gem hikes in Maryland are refreshingly straightforward and accessible.
Here are some of the best hidden gem hikes in Maryland we think should be included on every hiker's bucket list:
Best Hikes Near Baltimore
As Maryland's largest city, Baltimore is an American icon. It's the birthplace of the National Anthem; the home of the Ravens and Orioles; and the city boasting the best crab cakes in the country (this last statement is an irrefutable fact!).
What Baltimore isn't particularly known for, however, is its green spaces or parks; but really, it should be.
Did you know that Baltimore is home to more than 4,000 acres of parkland and public space? Or that, within city borders, there are over 94,000 street trees and 28,000 park trees?
Immerse yourself in the beauty of Baltimore, Maryland, when you hit the trails found in one of the town's numerous public parks and nature preserves. Here are the best hikes near Baltimore worth seeking out:
Best Hikes In Southern Maryland
Geography lesson time! There are three distinct regions that characterize Maryland's topography:
The first and largest area, falling within the Atlantic Coastal Plain, is bisected by the Chesapeake Bay, dividing Maryland into the Eastern Shore and the Western Shore.
The Piedmont Plateau, found west of the coastal lowlands, is a broad, rolling expanse with several deep gorges cut by rivers.
The Appalachian Mountain region, located further west near the West Virginia border, contains the state's highest hills and peaks.
That's a lot of geographical diversity in a small state, which makes for particularly incredible hiking — especially in Southern Maryland. Known for its beaches, rivers, and woodlands, Southern Maryland is home to amazing places such as Chapel Point State Park, Calvert Cliffs State Park, and Newtowne Neck State Park.
Within these regions, and many others, you'll find the best hikes in Southern Maryland:
Best Hikes In Maryland Map
Summary
There's no better way to experience this beautiful country of ours than out on the trails.
And while Maryland might not be the first place that comes to mind for epic hiking, the Old Line State is, in fact, home to some of the most extraordinary trails in this beautiful country of ours.
So lace up your boots and get ready for a bucket-list adventure, whether it's one mile or 12, out on one (or many!) of these best hiking trails in Maryland.
OnlyInYourState may earn compensation through affiliate links in this article. As an Amazon Associate, we earn from qualifying purchases.
More to Explore
best hiking spots in Maryland
What are the best wildflower hikes in Maryland?
The C&O Canal is considered one of the best wildflower hikes in Maryland.
Finding scenic hiking trails in Maryland is easy. You just have to know what type of views you want. If you love wildflowers, you'll definitely want to consider a hike along the C&O Canal. Don't worry; you won't have to hike the entire 184-mile trail to admire the colorful wildflowers. Stroll until you've had your fill of the thousands of wildflowers – bluebells, for example – that line the winding path. Don't forget to keep an eye out for butterflies and local wildlife. While spring and summer are the perfect time to hike the trail, you'll find natural beauty all year around.
Which hikes in Maryland are short and sweet?
One of the best short trails in Maryland is the Cascade Falls Trail.
Hiking in Maryland can be fun for the whole family, and you'll find an abundance of short and sweet hikes to get you started. Cascade Falls Trail in Patapsco Valley State Park, for example, leads straight to the beautiful Cascade Falls. The trail spans just a quarter of a mile, but it's definitely not made for strollers. You'll also need some sturdy shoes as the trail can get pretty rocky. However, the waterfall is worth the effort at any time of the year. During the hot summer months, dip your feet in the natural pool into which the waterfall cascades. Visit to see the waterfall flanked by fall foliage and blanketed in snow.
What are the best waterfalls in Maryland?
Check out any of the following beautiful waterfalls in Maryland:
Paw Paw Falls
Cunningham Falls
Great Falls
Ready to find things to do outdoors in Maryland? How about setting off on a waterfall road trip that pairs some of the state's best waterfalls with some of its best hikes? The waterfall road trip spans just over 300 miles and includes six hours of drive time. You'll start your epic journey at Muddy Creek & Swallow Falls, which requires a one-mile hike between the two. (Wear sturdy boots or hiking shoes.) The road trip also includes stops at Paw Paw Falls, Cunningham Falls, and Great Falls. Cap off your trek with a visit to Kilgore Falls.
Related Articles
Explore Maryland
Featured Addresses

11710 Macarthur Blvd, Potomac, MD 20854, USA

Appalachian Trail, College Park, MD, USA

Loch Raven Reservoir, Maryland, USA

Rocks State Park, 3318 Rocks Chrome Hill Rd, Jarrettsville, MD 21084, USA

Gunpowder Falls State Park Hammerman Area, 7200 Graces Quarters Rd, Middle River, MD 21220, USA

14707 Park Central Rd, Thurmont, MD 21788, USA

Sugarloaf Mountain, Maryland 20842, USA

Green Ridge State Forest, 28700 Headquarters Dr NE, Flintstone, MD 21530, USA

Patapsco Valley State Park, Woodstock, MD 21163, USA

Savage River State Forest, Maryland 21536, USA

Elk Neck State Park, 4395 Turkey Point Rd, North East, MD 21901, USA

Swallow Falls State Park, 2470 Maple Glade Rd, Oakland, MD 21550, USA