The Sinister Story Behind This Popular Maryland Covered Bridge Will Give You Chills
With an abundance of haunted places in Maryland, some definitely stand out from the rest. The alleged story behind the following spot is pretty chilling. Although it likely isn't true, it's easy to get swept up in the scariness of it all and let the feeling carry you away. If you're into visiting spooky spots, then you'll want to check this out.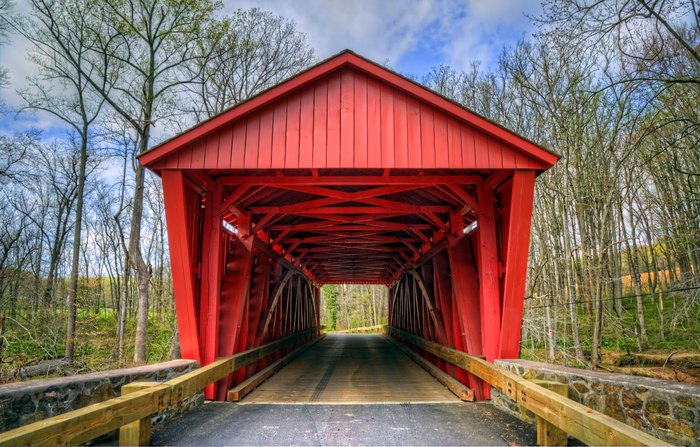 Check out the below video about this spooky spot in Maryland.
For more haunted places in the Old Line State, be sure to check out these other scary places in Maryland!
Have you ever been to the Jericho Covered Bridge? Did you see, hear, or experience anything unusual? Tell us your frightening (or not so frightening) tales in the comments! Where else in Maryland do you know to be haunted? Tell us about those, too!
OnlyInYourState may earn compensation through affiliate links in this article. As an Amazon Associate, we earn from qualifying purchases.
More to Explore
Haunted Bridge in Maryland
Where are the most haunted covered bridges in Maryland?  
Maryland is a really, really old settlement – and we're not just talking about colonizers. Long, long before them, there were also Native tribes who called it home, and as a result of all this history, there's the reality that some spots in Maryland might just plain be spooked. There are numerous haunted bridges in Maryland, including the infamous Jericho Covered Bridge (more on that one in a moment) and the infamous Crybaby Bridge in Millington. We're pretty sure that if your town doesn't have a crybaby bridge, well, your town just isn't cool (but maybe it's not creepy). Other allegedly haunted bridges in Maryland include the DeCoursey Bridge, over the Greenbriar Swamp. Once upon a time, it was the site of a gruesome murder, and to this day, it's still haunted by the headless spirit of the victim. Yikes.  
What are some legitimately haunted places in Maryland?  
Other than bridges, there are plenty of other supposedly haunted places in Maryland, and to be honest they all give us the creeps. You'll find plenty of allegedly haunted hotels in Maryland, as well as haunted bars, theatres, shops, and more. You'll find creepy old lighthouses like the old Point Lookout Lighthouse in Scotland, and even old hospitals, like the Glenn Dale Hospital in Glenn Dale, to be quite scary at night. There are haunted cemeteries in Maryland, and there are even haunted roads in Maryland! The question, then, is this: are these haunted places in Maryland legitimate? We guess you'll have to visit and see. No, really, you go first.  
Where is the Jericho Covered Bridge in Maryland, and how old is it?  
Lurking on Jericho Road in Harford County is an old burr arch bridge named, appropriately, the Jericho Covered Bridge. It's about 88 feet long and extends across Little Gunpowder Falls. It was built in 1865, making it over one and a half centuries old. It's a work of art in and of itself, ghosts or no ghosts, and we think you'll enjoy a visit no matter what you've come for. Looking for spooky things? Come after dark. Want something picturesque and quiet? Come during the day.  
Related Articles
Explore Maryland