The Oldest Restaurant In Kentucky Truly Has An Incredible Story
Bardstown itself is a charming place to visit, but the fact it is home to the oldest restaurant in Kentucky makes it even more inviting. The Old Talbott Tavern has been providing guests with good food, comfortable accommodations, and kindness since before the Civil War. Presidents and criminals have passed through its doors and found shelter in the rooms.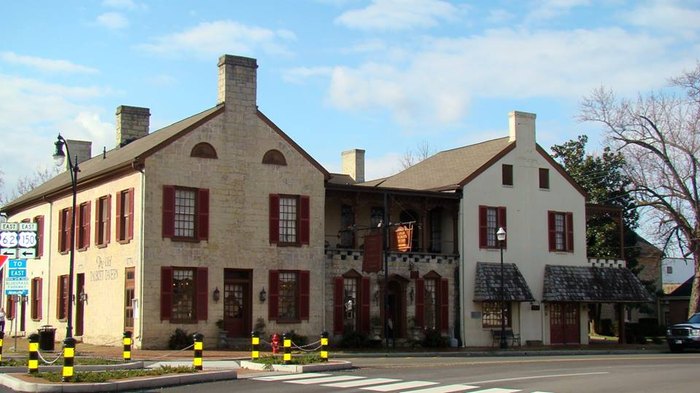 3. The Western Herald
This renowned paper printed an advertisement on September 23, 1829 deeming the Talbott Tavern as one of the largest, best constructed and most convenient hotels in the area. The stable size and convenience, along with the customer service provided were also called comfortable and agreeable. Back during those days, I think that was a 5-star rating.
2. Known by many names
Over the years the Old Talbott Tavern has been called many different names. It was previously the Hynes, Bardstown Hotel, Shady Bower Hotel, The Newman House, Chapman's House, and Old Stone Tavern.
1. Food, comfort and history

The food here is phenomenal, holding true to the tradition of feeding weary travelers and guests a hearty, filling meal. The rooms are cozy and comfortable, and the remnants of history are enough toe mesmerize even the most inquisitive scholar. Their special fried chicken puts KFC to shame.
Today, the legacy continues. The Old Talbott Tavern may be the oldest restaurant in Kentucky but the renowned it has gained for fine foods, historical stories, lodging and memorabilia is well deserved. Guests can tour the inside and see the holes from Jesse's shots, the murals of a French king and plenty of other bits of history. It is like stepping back in time, minus the food, which is phenomenal.
If you love dining and touring historical restaurants in Kentucky, you will find more worth visiting here.
OnlyInYourState may earn compensation through affiliate links in this article.