The Weekend Road Trip Through Eastern Kentucky Everyone Should Take
Kentucky is a state that is perfectly set up for a road trip. Each region of the Bluegrass has its own appeal, charm, and unique factors that it makes it easy to want to visit an area that's unfamiliar. If you've never explored the eastern half of our state, then you are missing out on incredible natural beauty, a rich history, wonderful state parks, and delicious food. Looking for things to do in eastern Kentucky? Look no further!
If you'd like to customize your trip to eastern Kentucky, you can view the Google Map to make changes and add destinations. This is a beautiful region of the state worth exploring, and we hope you enjoy the trip!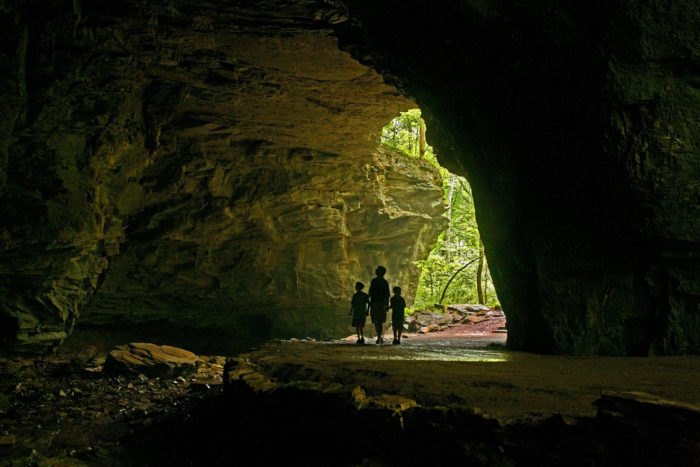 Eastern Kentucky has caves, mountains, scenic drives, history, and so much more. Are you from a different part of the state and are now ready to head east? If you're from Eastern Kentucky, what else should we add to our must-see list? Share with us in the comments!
Before you hit the road, be sure to check out our Road Trip Essentials Packing List & Guide so you set yourself up for the best Kentucky road trip ever!
OnlyInYourState may earn compensation through affiliate links in this article.
Things to do in Eastern Kentucky
December 05, 2022
What's Eastern Kentucky known for?
Eastern Kentucky is mountain land, and it just doesn't get much more beautiful than Kentucky's Appalachian Mountains. Covered with a seemingly endless expanse of lush, dense forests, the Appalachians of Kentucky will show you why we're called the Bluegrass State. During the spring and summer, this mountainous region is a beautiful shade of deep green-blue; in the fall, the rolling blue hills are painted in the red, orange, and golden colors of autumn. In addition to the above road trip that visits several amazing sites, parks, and points of interest in Eastern Kentucky, we highly recommend climbing aboard the Amtrak Cardinal and take a train ride through Appalachian Mountains.
What are some must-visit parks in Eastern Kentucky?
Those seeking the mountainous landscape of the American West need only visit Eastern Kentucky. One of our favorite parks in this region is Pine Mountain State Resort Park; or, as it was referred to in 1936, Cumberland State Park. (The name for Kentucky's first state park changed a few years later so as to avoid any confusion between it and Cumberland Gap National Park, the latter of which would come along in 1940 — more on that park below.) The hiking at this Kentucky State Park is phenomenal, traversing through the lush forests and massive rock formations for which the Bluegrass is well known. The mile-long Chained Rock Trail leads to one of the most awe-inspiring and iconic overlooks in Kentucky. It's the perfect excursion any time of year, providing near-perfect panoramas of the beguiling Bluegrass State.
Another must-visit park in Eastern Kentucky is, as we mentioned above, Cumberland Gap National Historical Park. This park spans a staggering 24,000 acres and is known as one of the largest national parks on the eastern edge of the United States. Kentucky shares this treasure with Virginia and Tennessee, but only in Kentucky will you find the Pinnacle Overlook. It's an out-and-back trail that stretches for 7.8 miles and climbs about 1,500 feet before reaching the overlook peering out over Cumberland Gap, one of the most jaw-dropping views in Kentucky.
OnlyInYourState may earn compensation through affiliate links in this article.