You Can Explore Kentucky's Caves By Boat On This Bucket-List Worthy Adventure
There are countless adventures to be had in Kentucky. While there are many expert-level activities, that doesn't mean that the casual adventurers out there have to miss out on the outdoor fun. If you are looking for a way to experience the natural wonders of the Bluegrass State, but in a calmer atmosphere, consider a Kentucky cave boat tour with The Gorge Underground. Located in Red River Gorge, this unique kayak or pontoon boat tour takes you beneath the gorge and shows you the area like never before – and it's definitely a bucket list-worthy adventure for everyone. Tours of the caves in Kentucky are popular in other areas of the state, but the Red River Gorge underground cave boat tour is also a must.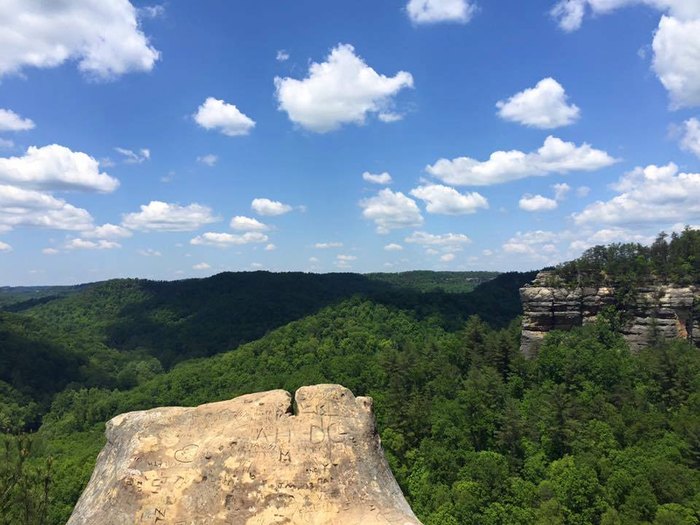 While you may not choose to crawl through a tight cave or zip through the trees, everyone can enjoy a bit of adventure on this unique cave boat tour. It's an experience that belongs on your bucket list and may just encourage you to try some of those more adventurous destinations in Kentucky. Would you like to explore the caves of Kentucky aboard a boat? Share your thoughts with us in the comments and tag a friend who would try it with you! And take a look at this video of the caves to get excited for your time exploring them!
The Gorge Underground is located at 2478 Glencarin Rd, Pine Ridge, KY 41360. Be sure to see more photos on The Gorge Underground Facebook page.
And for another exciting underground adventure, also offered through SUP Kentucky and The Gorge Underground in Kentucky, take a unique crystal clear kayak tour through the caves of Kentucky.
OnlyInYourState may earn compensation through affiliate links in this article.
Address: Gorge Underground, 2478 Glencairn Rd, Rogers, KY 41365, USA
Cave Boat Tour In Kentucky
March 03, 2021
What else can I do at The Gorge Underground in Kentucky?
Stand up paddle boarding
Kayaking
The Gorge Underground is the place to go for underground adventure. If you've already done the cave boat tour or the kayak tour, how about trying the SUP tour to change things up a bit? The Stand Up Paddleboard (SUP) tour, which is given by the Gorge Underground's partner SUP Kentucky, lasts for 1.5 hours and promises an unforgettable adventure. The tour features beautifully colored LED lights, expert guides, and photographs you can take home to commemorate your adventure. If you prefer kayaking, you can also go on a kayaking tour with a clear-bottomed kayak, so you can see the water below you.
What are some things to do in Red River Gorge?
Did you know that Red River Gorge in Kentucky is considered the state's Grand Canyon? Yep, and you'll find an abundance of things to do in Red River Gorge when you're there. After taking your cave boat tour in Kentucky, consider exploring the gorge a bit further. Bring your hiking boots along, so you can check out the many trails that dot the area, such as:
Rock Bridge Loop, which spans 1.5 miles and leads to a gorgeous waterfall.
Wildcat Trail, at just under two miles, boasts such stunning scenery as a rhododendron tunnel and rock shelters.
Don't forget to make time to visit Natural Bridge and Chimney Rock Top.
Where can I stay overnight in Red River Gorge?
With so much to do in Red River Gorge, you can try but probably can't pack it all into one day. If you're planning to stay for a few nights, consider checking into what just might be the most unique spot in the area – the Cliff Dweller. A cliff-mounted treehouse, the Cliff Dweller features several rooms, a floating staircase, and heat and A/C. Even better? The views, at which you can marvel from the many windows in the treehouse or from the rooftop deck. (Wait until you see the elevated bathroom, too.)