This Haunting Road Trip Through Indiana Ghost Towns Is One You Won't Forget
Indiana has a rich history of ghost towns with plenty to see and explore. Whether you're really into history, love abandoned buildings, or simply relish new photography opportunities, visiting ghost towns can be a pretty fun experience. We've shared some of the best ghost towns in the state, and now we're taking things a step further with this haunted road trip in Indiana! If you think you're up for it, try taking our haunted road trip to see some of the creepiest Indiana ghost towns. This trip will take you all around The Hoosier State, offering great views and sites as you travel.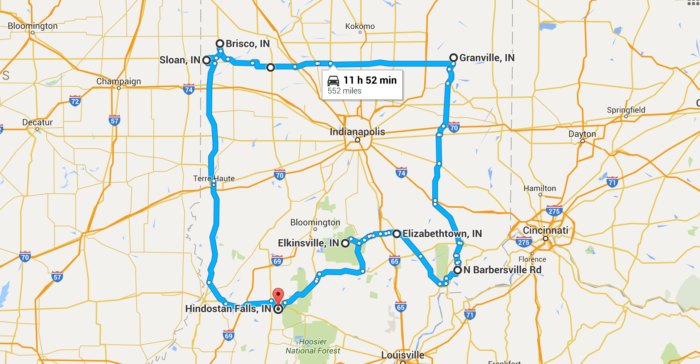 After that, we'll head back to Hindostan Falls, unless there's a detour or two you're hoping to take! If our haunting road trip through Indiana's ghost towns isn't enough to satisfy your appetite, check out these stunning images of an abandoned building in Gary, Indiana.
Address: Hindostan Falls, IN 47581, USA
Address: Elkinsville, IN 47448, USA
Address: Elizabethtown, IN, USA
Address: Barbersville, Shelby Township, IN 47250, USA
Address: Granville, IN 47338, USA
Address: Corwin, IN 47981, USA
Address: Brisco, IN 47993, USA
Address: Sloan, IN 47993, USA
Haunted Road Trip In Indiana
March 11, 2021
Are there many scary places in Indiana?
From cemeteries to historic old buildings, there are many scary places in Indiana you may want to avoid. Highland Land Cemetery is one of the most bizarre; this 140-acre graveyard is known for a ghost story that concerns a phantom dog known as Stiffy Green. The faithful canine so loved his owner that he remained by the man's tomb long after he passed, living off food and water left there by residents of the town. The dog eventually died in the cemetery and his body was stuffed and placed in the casket, and ever since, barks have been heard coming from within. But Indiana Hospital for the Insane may be the scariest, most unsettling place in Indiana: as was often the case with old mental health facilities, this asylum did not treat its patients humanely by today's standards. As a result, many died due to the poor methods used. At this building, bodies were buried in mass graves, unmarked, and it is believed that many of their spirits haunt the place to this day. Learn more about the history of this haunted place here.
What are some ghost stories in Indiana?
The Hoosier State is full of ghost stories and haunted lore. Of course, many of these ghost stories seem to center around old, historic buildings — including Willard Library. The state's oldest library is said to be haunted by The Grey Lady ghost. Appearing in the 1930s and last sighted in 2010, you know the Grey Lady is nearby by the smell of her perfume. She moves books around the library, makes strange noises, and is accompanied by a feeling of cold. And Culbertson Mansion is, to quote the name of its annual event, "Literally, a Haunted House." Over almost two centuries, workers at the estate have reported figures walking the hallways, strange noises, and experienced extreme dread while tending the mansion. Many people have refused to work in the carriage house because of experiences that they could not explain. The Culbertson Mansion is a rare example of a house that was preserved because it was haunted. It began hosting its annual Haunted House as part of a fundraising effort to save the mansion from being torn down. They succeeded, and the Culbertson Mansion is now a historic site that's still standing to spook you today.
What are some of the most unique road trips in Indiana?
Indiana is a wonderful place to go for a drive, and we have several unique road trips that will surely satisfy your appetite for adventure! Our European Road Trip is a little taste of life across the pond; this exciting trip takes you to all the places in the Hoosier State that will remind you of someplace in Europe. It features bed and breakfasts, restaurants, and gardens that all have some unique theme. If you're craving coastal vibes, our Shoreline Road Trip will take you along some of the most scenic spots along Lake Michigan, cruising by beaches, dunes, lake houses, and all sorts of nature. And if gorgeous waterfalls are your thing, our Southern Indiana Waterfalls Road Trip and Northern Indiana Waterfalls Road Trip will take you to some of the most spectacular sights in the state!
Address: Hindostan Falls, IN 47581, USA
Address: Elkinsville, IN 47448, USA
Address: Elizabethtown, IN, USA
Address: Barbersville, Shelby Township, IN 47250, USA
Address: Granville, IN 47338, USA
Address: Corwin, IN 47981, USA
Address: Brisco, IN 47993, USA
Address: Sloan, IN 47993, USA