The One County In Idaho With 19 Waterfalls You'll Want To Visit
It's no secret that Twin Falls County in southern Idaho has an abundance of waterfalls. In fact, it's home to the state's most famous waterfall. However, it also contains a plethora of lesser known waterfalls that are just as worthy of a visit. If you love waterfalls (who doesn't?), you'll want to visit this county as soon as possible. Plan a road trip around the region to visit all 19 waterfalls. You can find the whole list of waterfalls at this website. In this article we are going to highlight just a handful of them, so stop googling "Waterfalls near me" or "natural wonders in the US" and take a look.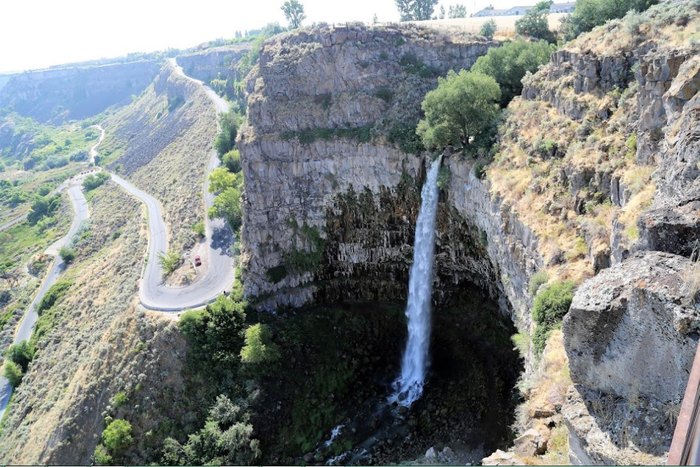 How many of these waterfalls have you seen? Be sure to check out our list of 10 No-Hike, Roadside Waterfalls In Idaho for easy-to-access waterfalls.
OnlyInYourState may earn compensation through affiliate links in this article. As an Amazon Associate, we earn from qualifying purchases.
More to Explore
Waterfalls Near Me
What are the best waterfall hikes in Idaho? 
While Idaho may not be the first state you think of when you think of waterfalls, you definitely don't want to overlook this amazing state. Filled with mountains, rivers, and valleys, Idaho is filled with wilderness areas only accessible through hiking trails. If waterfall hikes are your favorite type of hikes, keep reading for some of our favorite waterfall hikes in Idaho.
Shoshone Falls
Found in south-central Idaho, north of Twin Falls, Idaho, Shoshone Falls, often called the "Niagara of the West" is a breathtaking waterfall over 200 feet tall. Shoshone Falls is actually 212 feet tall, which is 45 feet taller than the actual Niagara Falls. Shoshone Falls are part of the famous Snake River, and Evel Knievel once attempted his unsuccessful motorcycle jump over the river just west from Shoshone Falls. Lucky for you, no motorcycle is needed to see the Shoshone Falls today. Instead, take a easy ¼ mile hike out to the Shoshone Falls Observation Deck which will give you an amazing overhead view of the falls and the surrounding landscape. However, if you are looking for a longer hike and still want to see Shoshone Falls, The Canyon Rim Trail from Shoshone Falls is a 12.6-mile hike that will take you down the Snake River with amazing views of the falls and bridges along the way.
Mesa Falls
Mesa Falls is actually composed of a Lower Falls and Upper Falls and can be reached on the Mesa Falls Nature Trail in Caribou-Targhee National Forest. Found near the Wyoming border, this two-mile hike will lead you through the Idaho forest before you continue your hike along the river bank. Along the way, you will pass both Upper Mesa Falls which is over 100 feet tall and Lower Mesa Falls, which is not quite that tall. One connection that Mesa Falls has with Shoshone Falls is that Mesa Falls can be found on a fork of the Snake River called Henrys Fork.
Related Articles
Explore Idaho