The Epic Cave Hike Every Idahoan Should Check Off Their Bucket List
It's a truly eerie and magnificent slice of Idaho history and geology that echoes with dystopian beauty: Craters of the Moon National Monument and Preserve in South-Central Idaho. In spring, the volcanic landscape explodes into a surprisingly lush green carpet, riddled with contrasts – colorful, ground-hugging wildflowers nestle themselves against ancient black basalt that tells the story of the monument's violent formation. Boiling hot surface temps in the summer and the icy chill of earth collide beneath the surface.
But while many folks come here to see the pocketed craters and rifts or the ghostly tuff cones, or to hike through the still-active remnants of volcanic history, there's something else truly spectacular weaving its way beneath the surface. Winding and weaving outwards like a vast black maze, Idaho's Craters of the Moon National Monument is literally combed with underground caves and passages, bewildering in their size, mystifying in their variety – an endless network formed by the ancient lava flows of eons past.
While most of these underground wonders are inaccessible from the surface and unable to be explored by man, Craters of the Moon is also home to a unique Cave Trail that takes visitors to some of the largest lava tubes in the world – and even allows you to walk inside and explore the fantastic underground world that lies beneath the unassuming surface. Ready to explore?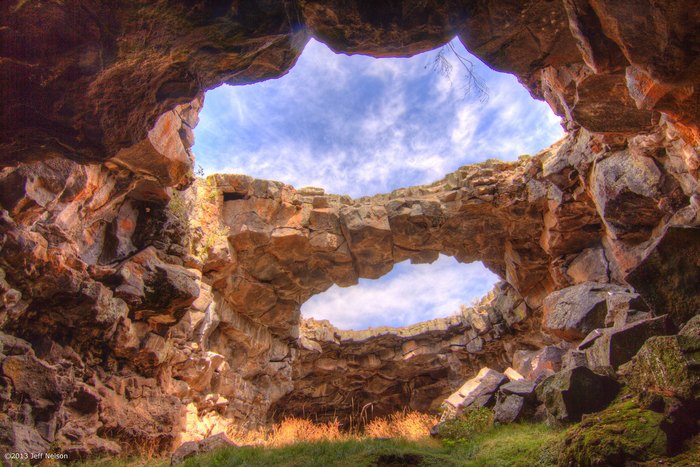 With cave temperatures averaging less than 50 degrees, this hike is the perfect summer activity. Just be sure to stop by the Visitor Center to grab your free (required) permit! You can find official directions to the monument on the NPS website.
Like this? Craters of the Moon isn't the only icy haven you can explore this summer! Check out Idaho's biggest ice caves here.
OnlyInYourState may earn compensation through affiliate links in this article.