There's Something Beautiful And Mysterious About This Overlooked Lake Trail In Idaho
Idaho is, without a doubt, an outdoorsy state. Hiking, biking, rafting, trail running, and backcountry exploring only brush the surface of everything that the typical Idahoan strives to accomplish on a weekend out – whether we're searching for a wooded place to escape into nature, or a quiet lake to catch some fish. But uniquely, Idaho also has a storied history, filled with triumphs and tragedies, Western lore and famous legends. While most of Idaho's old mining towns have grown up and blossomed into lively modern communities, for every quaint town that dots the state, there are dozens of other tiny towns that just didn't quite make it.
It is estimated that there are nearly 200 ghost towns peppered across the Gem State in varying stages of decay and preservation – some only labeled on maps, with little more than passed-down memories to mark their existence. Some were abandoned due to economic crisis, and others simply died along with their residents and now stand as quiet as the grave.
One particularly beautiful trail in Idaho combines these multiple favorite Idaho pastimes: hiking to a gorgeous secluded lake in the mountains, and exploring an abandoned ghost town that precious few Idahoans even know exists. How's that for the perfect day trip?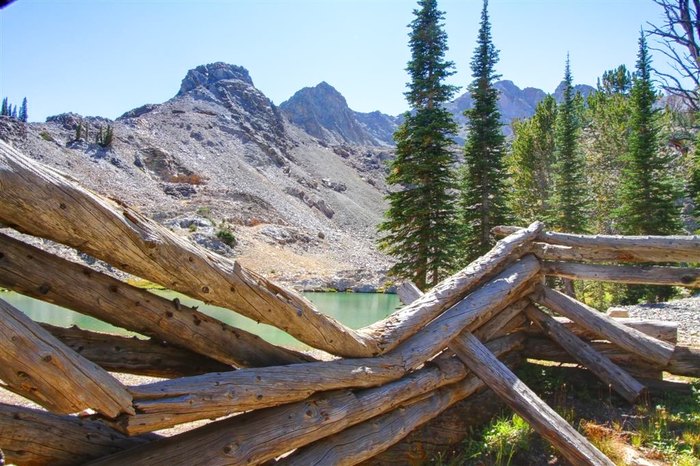 Getting Here: You can access the Boulder Lake Trail from Ketchum. Drive north 13 miles on Highway 75 to Boulder Creek Road. Turn right on Boulder Creek Road and drive ¼ of a mile to the fork; take a right. You'll find yourself at Boulder Creek. Passenger cars will need to park here in a grassy area near the creek. Hiking from here is strongly recommended.
What's your favorite ghost town to visit in Idaho?
OnlyInYourState may earn compensation through affiliate links in this article.