The 8 Beaches On This One Coastline Have The Absolute Bluest Water In Hawaii
The Hawaiian Islands are world famous for their crystalline, turquoise waters, and pristine white sand beaches – and while there are too many beaches to name that share these features, there is one particular coastline that trumps all others. Oahu's windward coast – specifically the 10-mile stretch from the Marine Corps Base Kaneohe to Makapu'u Beach Park – is home to the bluest water in Hawaii, sure to make your next beach day unforgettable. From north to south, here are the eight incredible beaches that make up this breathtaking stretch of Hawaiian coastline.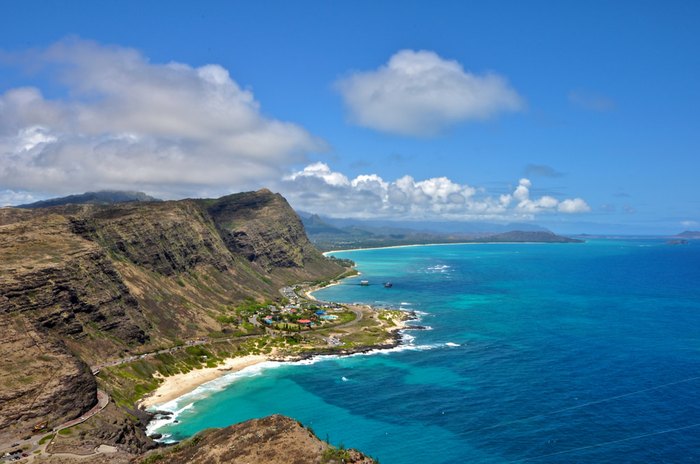 Which of these windward Oahu beaches is your favorite beach day destination? Where are your favorite places to go for the bluest water in Hawaii? Share your top picks in the comments below!
If you're located on any of Oahu's neighboring islands, check out these 17 little-known beaches, these beautiful colored beaches, or these 22 beaches to add to your Hawaii beach bucket list.
Address: Kalama Beach, Kailua, HI 96734, USA
Address: Kailua Beach, Kailua, HI 96734, USA
Address: Lanikai Beach, Kailua, HI 96734, USA
Address: Bellows Field Beach Park, 41-43 Kalaniana?ole Hwy, Waimanalo, HI 96795, USA
Address: Sherwood Beach, Kalaniana?ole Hwy, Waimanalo, HI 96795, USA
Address: Waimanalo Beach, HI, USA
Address: Kaup? Beach Park, Waimanalo, HI 96795, USA
Address: Makapuu Beach Park, Waimanalo Beach, HI 96795, USA
Bluest Water in Hawaii
August 02, 2022
What beaches in Hawaii have the most striking sand?
Hawaii's beaches are an all-inclusive package deal: water, sand, cliffs, and all. Once you've visited the beaches with the bluest water in Hawaii, we recommend checking out some of the state's most noteworthy sand beaches. These are places where sand, not water, steals the show, and believe us when we say that these sandy shores most certainly rival their cerulean blue siblings! Because in addition to water, Hawaii is world-renowned for its superlative shores, offering a veritable ROYGBIV of coastal landscapes.
One of the many things that set Hawaii apart is the incredible variety of colorful beaches populating its islands; black, red, green, white, and orange — the contrast between shores and seas is nothing short of sublime. And among the state's colored beaches, Kaihalulu certainly stands out. Located south of Hana Bay on the eastern coast of Maui, Kaihalulu is one of only a few red sand beaches in the entire world. You'll access the stunning beach via a verdant cliff-side trail, and the water can be pretty rough — but it's all worth it, because when you arrive at this red sand beach? You'll be at a loss for words. Feeling a bit dark? Nestled between Hawaii Volcanoes National Park and Naalehu town on the Big Island, Punaluu is perhaps Hawaii's most famous black sand beach and is a popular haven for honu to relax. (Wainapanapa Beach also has some midnight-black beaches, as well.) And we'd be remiss not to mention Papohaku Beach, located on Molokai's western tip, and worthy of a visit simply because it is so secluded — and there's no beating the sand's orange hue when the sun sets!
Address: Kalama Beach, Kailua, HI 96734, USA
Address: Kailua Beach, Kailua, HI 96734, USA
Address: Lanikai Beach, Kailua, HI 96734, USA
Address: Bellows Field Beach Park, 41-43 Kalaniana?ole Hwy, Waimanalo, HI 96795, USA
Address: Sherwood Beach, Kalaniana?ole Hwy, Waimanalo, HI 96795, USA
Address: Waimanalo Beach, HI, USA
Address: Kaup? Beach Park, Waimanalo, HI 96795, USA
Address: Makapuu Beach Park, Waimanalo Beach, HI 96795, USA