These 10 Black Sand Beaches In Hawaii Will Leave You In Awe
Hawaii is home to some of the most breathtaking beaches in the country — and perhaps even the world. With approximately 750 miles of coastline, the Hawaiian Islands are home to countless incredible beaches in a variety of captivating colors — including black. Stark black sand contrasting with the crystalline waters of the Pacific Ocean make these ten black sand beaches in Hawaii positively magical. Let's take a look, shall we?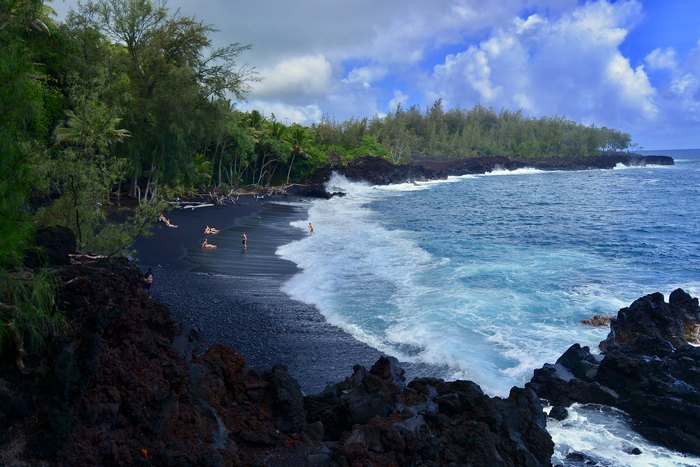 Black isn't the only color sand you'll find in Hawaii, though. One of the world's only green sand beaches is found on the southwestern tip of Hawaii Island, and Maui's Hana Highway is home to a striking red sand beach. Add both to your Hawaii beach bucket list!
OnlyInYourState may earn compensation through affiliate links in this article.
Black Sand Beaches in Hawaii
July 12, 2022
Where can I find black sand in Hawaii?  
There are many opportunities for visiting a black sand beach in Hawaii. As it turns out, there are numerous black sand spots you're sure to find amazing! Among the most well-known sources of black sand in Hawaii is Punalu'u Beach, which is easily one of the most famous and most scenic places in Hawaii. Feel the crunch of the larger granules under your feet and dig your toes into the warm sand: it doesn't get more amazing than this! Another famed beach filled with Hawaiian black sand is Kaimu Beach, which is "young", geologically speaking, having been formed in 1990 as a direct result of the 1983 Kilauea eruption. Give it another couple hundred years and the sand here will be fine and soft.  
Where is the black sand beach in Hawaii?  
The list continues! Don't settle with just Punalu'u and Kaimu beaches – there are many more to see! Other famed black sand beaches in Hawaii include gems like Pohoiki Beach, which is located within the Isaac Hale beach park. Another brand-new beach, this amazing spectacle was formed in 2018 following the legendary Lower East Zone volcanic eruption. As a result, there is more and more black volcanic sand washing up onto this scenic Hawaiian beach, and more comes every day. Again: give it a few centuries and it'll be a soft, supple black sand beach. The older the sediment, the smoother and softer it gets.  
How is Hawaiian black sand formed?  
So, how does this mysterious black sand come to be? Easy: it's the fascinating result of numerous volcanic eruptions over the centuries. Hawaiian black sand is made up of the most common type of black sand on earth, composed of basalt, rapidly cooled lava flows, and other dark sediments. Over the years as the ocean tumbles and erodes the fragments, they become smaller and smaller (and softer and softer). Don't ever take any black sand from these beaches, though, or you might just face the curse of Pele herself (that, and it's super illegal, punishable by fines reaching the hundreds of thousands of dollars range).