7 Spectacular Spots In Georgia Where You Can Camp Right On The Beach
Now that the weather is leveling off, and the leaves will start changing into beautiful hues of reds, oranges, and yellows, it may be time to plan that camping trip you always talk about. Or perhaps you are already an avid camper and are looking to spend the night in a few remote, one-of-a-kind campgrounds. Regardless, we have a list that everyone can enjoy – beach camping sites in Georgia. We're very fortunate in Georgia to not only have lush, green forests to appreciate, but also tons of coastal land that's just drenched in allure and serenity. Here are a few spectacular beach camping spots in Georgia perfect for your next adventure.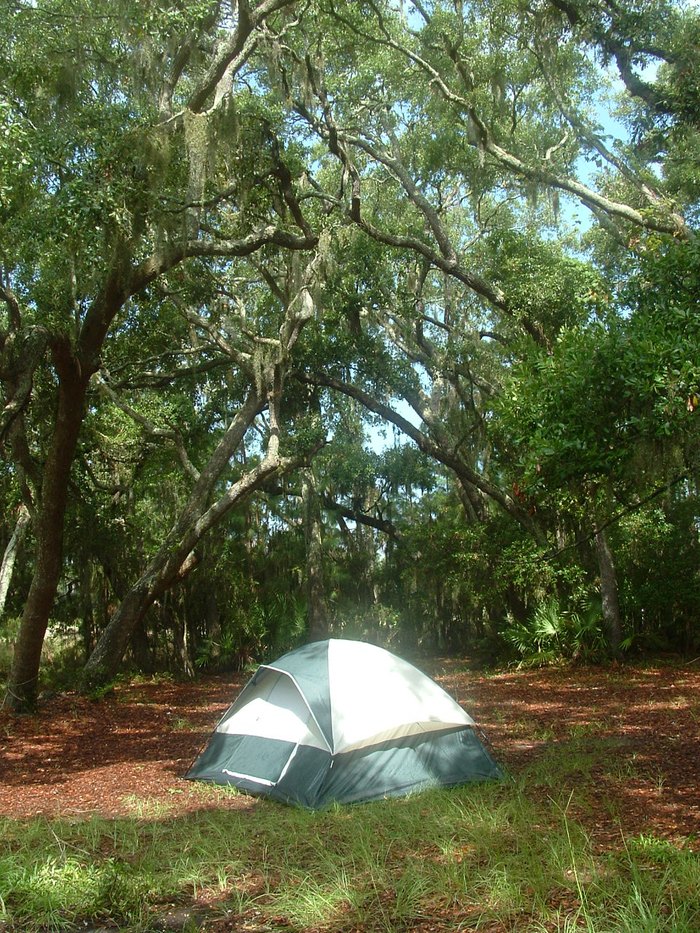 Beach camping in Georgia is such a fun, memorable experience. If you're looking to take your Georgia camping to another level, though, then you have to check out Spend The Night At Georgia's Most Haunted Campground For A Truly Terrifying Experience. It's the perfect place to spend your Halloween Weekend (cue Michael Meyers music).
OnlyInYourState may earn compensation through affiliate links in this article. As an Amazon Associate, we earn from qualifying purchases.
More to Explore
Beach Camping in Georgia
What are the best state park campgrounds in Georgia?
Georgia is fortunate enough to be blessed with so many incredible state parks that choosing the location of your next camping adventure can be quite the tough choice! Luckily, there is something for everyone when it comes to camping in Georgia State Parks and here we bring you some of the best options the Peach State has to offer:
Stephen C. Foster State Park. This Peach State park is highly regarded for its superlative outdoor recreation -- including kayaking, hiking, birding, and canoeing -- but this natural wonder takes on a completely different identity come dusk. This remote park and its 400,000-acre Okefenokee Swamp, one of the great Natural Wonders in Georgia, boast some of the darkest skies in the South. Approved by the International Dark-Sky Association, Stephen C. Foster State Park is one of the most celebrated places to view the stars clearly and with unobstructed views. For these reasons, the camping at this Georgia park is unrivaled; bring a tent or camper and get ready for an out-of-this-world camping experience that's truly bucket-list worthy.
Providence Canyon State Park. This 1,000-acre expanse is considered one of the most glorious natural wonders in Georgia, and attracts visitors from all over the South looking to hike, walk, wander, and immerse themselves in nature. To this end, the park's campground attracts intrepid overnight adventurers seeking a peaceful night at one of the best campgrounds in Georgia. While many people visit Georgia's Little Grand Canyon for the day to get in some quality hiking, there are campsites hidden within the park that allow visitors the option to stay and enjoy the views for more than just the day, which is an opportunity you shouldn't pass up.
Indian Springs State Park has been operated as a Georgia public park since 1825, making it one of the oldest state parks in the entire country. The park's legendary mineral waters attracted scores of wellness seekers in the 1800s; today, visitors come to Indian Springs to revel in its intriguing history and incredible scenery – and camping offers a way for guests to quite literally immerse themselves in this captivating place. Park guests can camp at nearly 90 different sites ranging from cottages to campsites scattered all across its sprawling 500 acres. Because of its size, it's quite easy to find a quiet spot to pitch a tent among the trees to serve as a home base for a weekend hiking the scenic nature trails, fishing, boating, geocaching, and simply enjoying the views.
Looking for more amazing places to go camping in Georgia? Here are 26 favorites courtesy of our readers and resident experts!
Related Articles
Explore Georgia