People Drive From All Over For The Slippery Dumplings At This Charming Delaware Restaurant
Delawareans are foodies at heart – after all, our state is one place where you can find the best peach pie, salty french fries, delicious salt water taffy, and even the region's best meatballs. One meal that we do particularly well is chicken and dumplings – but we have our own way of making them. Jimmy's Grille in Bridgeville makes the most Delmarvalous slippery dumplings around, so be sure to head out and try them.
Please note, Jimmy's Grille has permanently closed.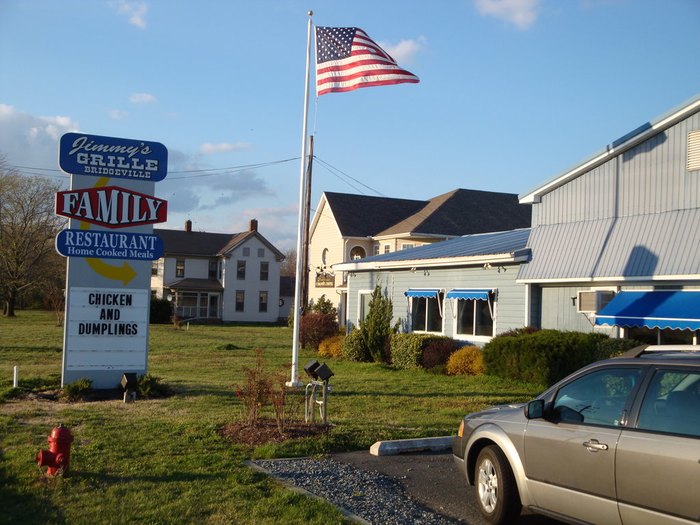 So, next time you're craving a home cooked meal, head to Jimmy's Grille. There are locations in Bridgeville, Dewey Beach and Rehoboth Beach, and each one serves up the same homemade dishes, including the legendary chicken and slippery dumplings.
Jimmy's Bridgeville is located at 18541 S Main St, Bridgeville, DE 19933 and is open Sunday – Thursday: 6 a.m. – 8 p.m.; Friday & Saturday: 6 a.m. – 9 p.m.
Jimmy's Rehoboth Beach is located at 19724 Coastal Highway, Rehoboth Beach, DE 19971 and is open Sunday – Thursday: 7 a.m. – 8:30 p.m.; Friday & Saturday: 7 a.m. – 9 p.m.
Jimmy's Dewey Beach is located at 1911 Coastal Highway, ​Dewey Beach, DE 19971. This location has more of a beach bar vibe, and it opens at 3 p.m. Monday through Thursday, and at 12 p.m. Friday through Sunday.
For more spots in the state where you can find a delicious home cooked meal, check out our list of 9 Small Town Family Kitchens In Delaware That Serve Meals To Die For.