The Mysterious Delaware Road You Absolutely Must Drive At Least Once
It's no surprise to anyone who's lived here that there are lots of haunted places in Delaware. Not only do we have a confederate prison that's one of the most haunted places in the world, but even our taverns have resident ghosts! The Delaware ghost stories are plentiful. One of the most often repeated is that of the most haunted road in Delaware, Maggie's Bridge. According to legend, those who visit the most haunted road in Delaware can summon the road's resident ghost, resulting in one frightful drive. Are you ready to explore one of the creepiest bridges in Delaware?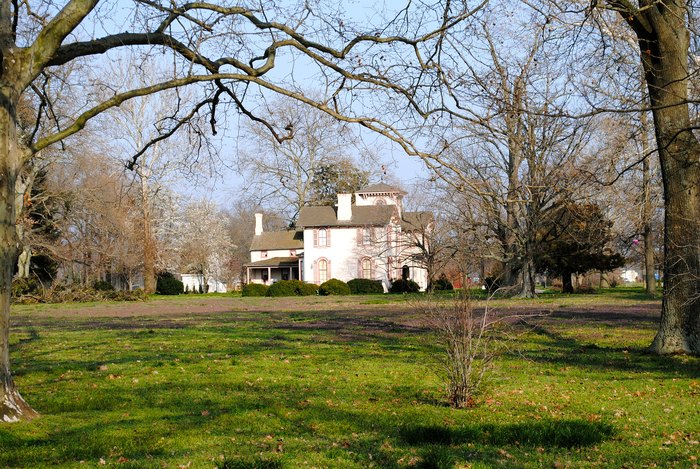 So, did you know about Maggie's Bridge? Ever driven along the scariest bridge in Delaware? If so, did you experience anything strange? Know of any other Delaware ghost stories? Tell us!
Maggie's Bridge is just one of the haunted places in Delaware. There are several others. If you're a fan of creepy happenings and spooky stories, you might want to head out on our Haunted Road Trip. Read more about it here: This Haunted Road Trip Will Lead You To The Scariest Places In Delaware.
OnlyInYourState may earn compensation through affiliate links in this article. As an Amazon Associate, we earn from qualifying purchases.
More to Explore
Bridges in Delaware
What are some other haunted places in Delaware?
The most haunted places in Delaware are:
There are several haunted places in Delaware, including the Dead President's Pub. Located in Wilmington, the tavern is more than 200 years old, so it makes sense that it's allegedly a paranormal hotspot. Over the years, numerous employees have reported all sorts of strange happenings, such as objects moving on their own, disembodied voices, and other "poltergeist-like" incidents. The inexplicable occurrences are credited to the ghost of former customer and known prankster, Lemonade Mullery. Sadly, the pub regular slipped in the men's room, broke his neck, and died instantly. According to some, Mullery has never left his favorite watering hole.
Are there any other Delaware ghost stories?
The scariest Delaware ghost stories are:
When it comes to Delaware ghost stories, there are plenty to choose from. One of the most repeated tales involves Lums Pond State Park in Newark. The spooky story begins in the 1970s, when a runaway girl was kidnapped, brought into the park's woods, and murdered. According to legend, the killer was never caught; however, at times, a pleading female voice and muffled screams can be heard from the woods located just off the park's Swamp Forest Trail, making for a trek that's thrilling in more ways than one.
What are the spookiest places in Delaware?
The spookiest places in Delaware are:
Maggie's Bridge isn't the only haunted road in Delaware. There's also Cooch's Bridge in Newark. The area surrounding the bridge saw incredible amounts of violence during the American Revolution. One legend, in particular, says that during one of the first battles between the Redcoats and militia, a British soldier's head was shot off. To this day, people still claim to see a phantom headless soldier, roaming the roads in the area. Learn more about the Battle of Cooch's Bridge... it's fascinating!
Related Articles
Explore Delaware
Featured Addresses

4683 Woodland Church Rd, Seaford, DE 19973, USA