These 11 Epic Wildflower Hikes Around Denver Are Completely Out Of This World
I don't know about you, but I get downright giddy when those delightful little wildflowers start popping up all along the trails near Denver. And the best part is, that as the season goes on, it only gets better and better! Peak viewing times vary, and as a general rule, the high country explodes with bursts of brightly colored blooms primarily during June and July. However, you can enjoy the wondrous beauty of wildflowers in several places depending on the timing, species, and elevation. Be sure to check out the best hikes in Denver where the wildflowers are completely out of this world!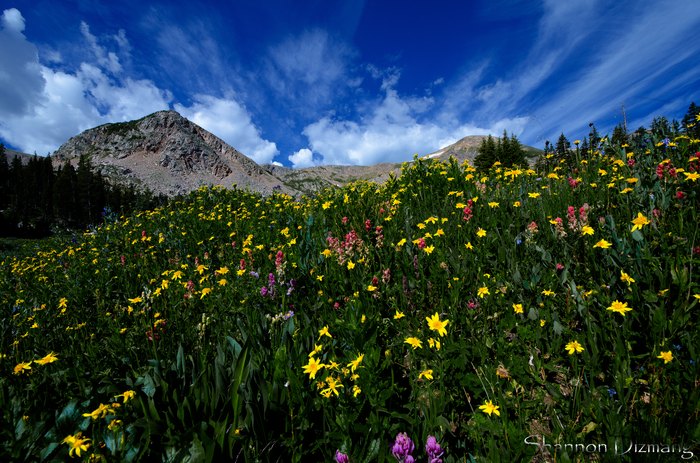 What are your favorite epic wildflower hikes near Denver? Don't hold out on us! Share your stunning spots in the comments.
Address: Indian Peaks Wilderness Ozuil trail, Nederland, CO 80466, USA
Address: Roxborough State Park, 4751 Roxborough Dr, Littleton, CO 80125, USA
Address: Herman Gulch, Colorado 80435, USA
Address: Eagles Nest Wilderness, Silverthorne, CO 80498, USA
Address: West Maroon Pass, Colorado 81654, USA
Address: Pawnee National Grasslands Birding Tour, Briggsdale, CO 80611, USA
Address: Chautauqua Trail, Boulder, CO 80302, USA
Address: Rawah Wilderness, Jelm, CO 82063, USA
Address: Estes Park, CO 80517, USA
Address: Rabbit Ears Pass, Colorado 80459, USA
Address: Butler Gulch, Colorado 80438, USA
Best hikes in Denver
July 07, 2022
When searching "hiking trails near me," the Switzerland Trail popped up. What can you tell me about it?
The Switzerland Trail is one of the most scenic hikes in Colorado. It is one of the many, many trails that traverse through the Roosevelt National Forest near Boulder. The trail extends approximately 9 miles and is popular with hikers, off-roaders, equestrians, and others, as it is a pretty wide trail. Even if you don't hike the entire thing, there is enough scenic beauty along the way to astound you.
I'm looking for an idea for a road trip in Colorado.
Did you know that Colorado is peppered with ancient castles? If not, you would definitely explore and enjoy a unique castle-themed road trip in the Rocky Mountain State! The itinerary runs in a loop, so you can start anywhere along the way. Along it you'll visit Cano's Castle, The Will Rogers Shrine of the Sun, and Glen Eyrie Castle. Each one possesses its own distinctive history and beauty. 
I'm looking for a great burger restaurant in Denver.
There are loads of great burger restaurants in Denver so take your pick! Among the more well-known joints is The Cherry Cricket (how's that for a name?). This iconic eatery has been a Denver area staple since 1945. Once you decide what kind of meat you want (bison, turkey, vegan, chicken, beef) the fun begins, as there are almost 30 different topping options! In addition to the customary burger toppings, they offer wild and wonderful other ones like pimento cheese, ancho apricot barbecue sauce, green chili strips, grilled pineapple, and pickled jalapeños, just to name a few. The Cherry Cricket also serves up delicious salads, Mexican food plates, soups, chilis, sandwiches, and sides. Bring your appetite – you might be here for a while! 
I want to go to Union Station in Denver.
Of course, Union Station in Denver is where you can catch the Amtrak trains to destinations all over the country. But there are also many other wonderful things to discover there. For one, take some time to enjoy the architecture here. It was built in the Beaux Arts style and is truly stunning. You can also dine at numerous coffee shops and restaurants, buy flowers, sample ice cream, browse a bookstore, and other activities. Union Station is a popular place to see and be seen with both the locals and tourists alike.
Address: Indian Peaks Wilderness Ozuil trail, Nederland, CO 80466, USA
Address: Roxborough State Park, 4751 Roxborough Dr, Littleton, CO 80125, USA
Address: Herman Gulch, Colorado 80435, USA
Address: Eagles Nest Wilderness, Silverthorne, CO 80498, USA
Address: West Maroon Pass, Colorado 81654, USA
Address: Pawnee National Grasslands Birding Tour, Briggsdale, CO 80611, USA
Address: Chautauqua Trail, Boulder, CO 80302, USA
Address: Rawah Wilderness, Jelm, CO 82063, USA
Address: Estes Park, CO 80517, USA
Address: Rabbit Ears Pass, Colorado 80459, USA
Address: Butler Gulch, Colorado 80438, USA