The Ultimate Pie Shop Road Trip In Arkansas Is As Charming As It Is Sweet
We love our food here in Arkansas. We certainly enjoy good, down-home-cooked meals. Besides good cookin', we also love warm, homemade pies – you know, the kind that reminds us of being at grandma's house. And in the heart of Arkansas, there are a few restaurants serving up some of this mouthwatering goodness. Not only are these places charming, but they are also worthy of a road trip to try the sweet treats. If you're curious about where to find the best pie in Arkansas, well, this is the road trip for you. Enjoy!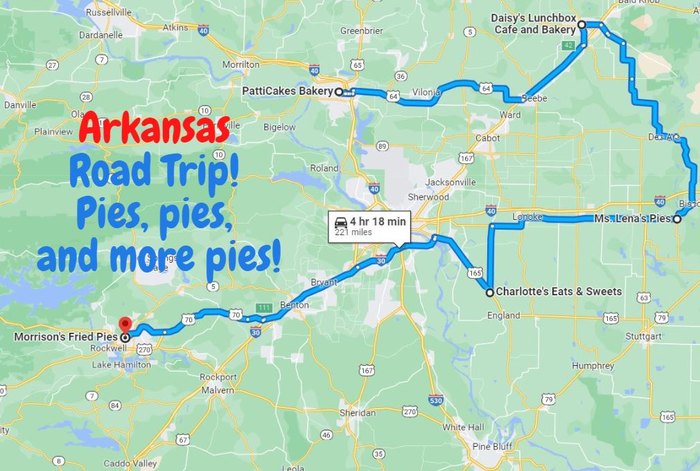 Well, folks, these are just five of the charming pie shops in the heart of Arkansas. But we know there are many others that we can include. Where do you think you can find the best pie in Arkansas? Tell us in the comment section the ones we should visit on the next road trip – we'd love to know.
OnlyInYourState may earn compensation through affiliate links in this article.
More to Explore
Best Pie in Arkansas
Where can I find the best pie in Arkansas? 
The state of Arkansas is a state that takes its pie very seriously. There are hundreds – literally hundreds! - of amazing options when it comes to finding pie in Arkansas. Some places you'll find the best pie in Arkansas are: 
The Wooden Spoon – This farm-to-table café and bakery is home to world-famous pies that are so good folks travel from all over the state to get some. 

 

Morrison's Fried Pies – This relatively new joint serves up some of the best fry pies you'll ever have in your life. In just a few years, this awesome little place has become synonymous in Arkansas with awesome pie.

 
Ms. Lena's Pies – This highly-rated and much-beloved little home-based pie shop is absolutely wonderful. It's the best home-made (literally) pies in the world, seriously. 

 
Learn more about another legendary pie shop in Arkansas. 
What are some other great places for pie in Arkansas? 
Of course, the list of amazing pie shops in AR doesn't end with the above-mentioned places. Nope; there are quite literally hundreds more amazing places that are definitely worth a visit (and a bite), such as:  
Rymolene's Pies – Oh, boy. Where to begin! Choose from more than 30 amazing flavors of pie – from the standard to super creative – and you can go wrong with none of them. 

 
Hawkins Variety Store – This is one of the oldest general stores in all of Arkansas, and there's a reason it's been around for so long. That reason is probably the pies. 

 
Learn more about the 30+ amazing options at Rymolene's Pies. 
Where do I get the best pie near me? 
We can't even start to list all the pie spots in Arkansas worth checking out, but all the ones mentioned here are worth it for sure. Even more awesome places to find amazing pie include:  
Charlotte's Eats and Sweets – Sure, there are other things on the menu around here than just pie... but why would you not get pie? 

 
Burgers, Pies and Fries – Okay. For this one, you might want to just bring your whole appetite, because the whole menu is to die for (but those

pies

though). 

 

Gooseberry Handmade Pies – Rave reviews claim this is the best pie in the world. It really might be.  

 
Learn more about the history of Possum Pie, Arkansas's official state pie.   
Related Articles