There's A Secret Waterfall In Arizona Known As New Navajo Falls, And It's Worth Seeking Out
When we think about waterfalls in Arizona, Havasupai is typically the first one that comes to mind – and understandably so. Unfortunately, this leads many locals and tourists alike to forget that any others even exist at all! Located in the very same canyon is New Navajo Falls (also known as "Little Navajo Falls"), a natural wonder whose formation just over ten years ago was a beautiful accident. If you've ever Googled Arizona waterfalls near me, there's a chance you didn't see this one – but you should.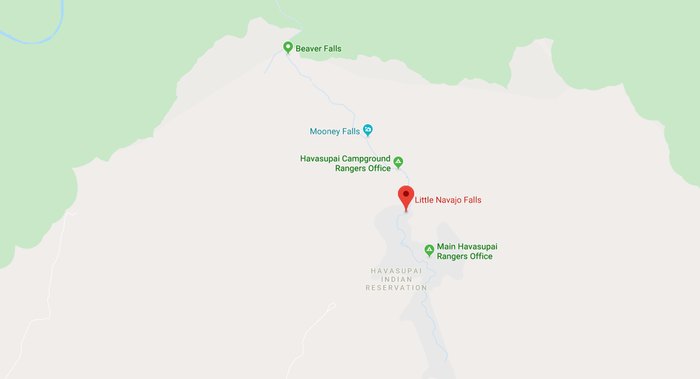 Have you ever hiked to Little Navajo Falls? If so, do pictures do it justice? Let us know your thoughts in the comments!
Check out our previous article for more waterfalls that belong on your outdoor adventure bucket list: 6 Gorgeous Arizona Waterfalls Hiding In Plain Sight With No Hiking Required.
OnlyInYourState may earn compensation through affiliate links in this article.
Address: Supai, AZ 86435, USA
Waterfalls Near Me in Arizona
July 17, 2021
Where can I find some hidden waterfalls in Arizona?  
Arizona is home to one of the single most legendary hidden waterfalls in the United States: the breathtaking, awe-inspiring cascade known as Havasu Falls. It's nothing short of a desert paradise; accessible only to those willing to do a rigorous eight-plus mile one-way hike down into it, it's a permit-only experience that you'll never, ever forget. In the event that you've already conquered that one, there's always Mooney Falls, also on the Havasupai Reservation, and also immensely challenging (but rewarding) to access. Grand Falls is another epic waterfall in Arizona, though it's mostly seasonal (best seen in springtime, during snow runoff, or following a notable rain event). For more of our favorite hidden waterfalls in Arizona, check this article out. How many have you seen?  
What are some of the best hidden gems in Arizona?  
Everyone seems to think of the same things when they think of Arizona: see the Grand Canyon, go to Sedona, do a wine-tasting in Jerome. Things like that. However, there's plenty of lesser-trekked paths to go down if you're looking for some awesome hidden gems in Arizona! For example, we've got an interesting array of roadside oddities that everyone's got to see at least once. Head far enough south and you'll encounter THE THING?, which is, well, a thing that, for one dollar, you can see. Take an afternoon and check out the intriguing history of Montezuma's Castle, an ancient native American dwelling carved into the side of an Arizona cliff. And for those who prefer inner-city intrigue, there's always the Casa Grande Domes – one of the most popular abandoned spots in the entire state.  
What are the best hiking trails in Arizona? 
Arizona is the ultimate outdoorsy person's paradise. With more than 800 miles of hiking trails to explore, you're bound to find somewhere you just love, no matter what kind of landscape you prefer. Desert hikers will love any of the breathtaking trails in southern Arizona's amazing Saguaro National Park. Forest enthusiasts will adore trails in northern Arizona, like Kachina Trail at the top of the San Fransisco Peaks. You'll find trails in the desert, in the woods, in rainforest-like settings, and even plains! For the record, Kachina Trail is this writer's favorite... but don't tell anyone we told you so.