Take A Ghost Walk Through Jerome, The Most Haunted Small Town In Arizona
Whether you believe in ghosts or not, it's hard to dispute what people consider the most haunted town in Arizona. It's considered to have such high activity with the paranormal that people even take ghost tours of it. If you're feeling brave enough, you can check out this town for yourself.
Jerome, a washed-up mining community with less than 500 residents, is a notoriously haunted destination whose history is one of abandonment and tragedy. Jerome Ghost Town Tours takes you to the most paranormally active spots and even provides ghost hunting equipment.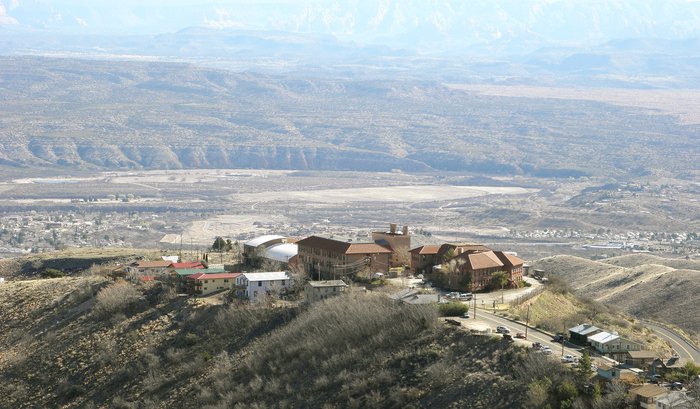 Visit the company's website or Facebook page to learn more.
Have you ever used Jerome Ghost Town Tours? If so, let us in on all the spooktacular details. Check out our previous article to learn more about the notorious Grand Hotel: The Story Behind Arizona's Haunted Jerome Grand Hotel Is Seriously Creepy.
Address: 403 Clark St A-2, Jerome, AZ 86331, USA
OnlyInYourState may earn compensation through affiliate links in this article.
Most Haunted Town In Arizona
May 20, 2020
What is the most haunted place in Arizona?
If you're considering visiting some haunted places in Arizona, you better be pretty brave. Not only is there a particular spot that is considered the most haunted place in the state, but possibly the entire nation. The Yuma Territorial Prison has quite a reputation. It was built in 1875 and kept prisoners until 1909. It was notorious even back in the day for its harsh conditions. Over a hundred inmates died while serving time there, and the nearby cemetery is where their bodies rest – their spirits, however, do not. Many people report feeling uneasy here, with others saying they heard ghostly noises echoing through the empty cells.
What are the creepiest cemeteries in Arizona?
The town of Jerome in Arizona has one of the spookiest cemeteries in the state – the Old Miners Cemetery – but it might not be the creepiest. That title could also go to the Evergreen Cemetery, located in Bisbee. This historic graveyard is the final resting place for many miners during the town's heyday. They worked at local copper mines and met untimely deaths due to various mining accidents. It's said that their restless spirits still haunt the grounds of the cemetery, never leaving after suffering tragic deaths. Even if you don't believe in ghosts, the Evergreen Cemetery is sure to send chills down your spine.
Can I visit any abandoned places in Arizona?
Beyond Arizona ghost stories, there are abandoned spots in the state that range from downright scary-looking without the need for paranormal tales, to actually quite pleasant. If you're looking for a relaxing experience while also visiting an abandoned place, you can check out this abandoned resort in AZ. While the once-luxurious resort has been mostly destroyed, there are still remnants left behind that you can go hiking to near Strawberry. One of the pieces left behind is a hot springs pool that is always warm and very inviting. If you'd like, you can hike to the resort, explore its ruins, and take a dip.
Address: 403 Clark St A-2, Jerome, AZ 86331, USA
OnlyInYourState may earn compensation through affiliate links in this article.