This Creepy Ghost Town In Arizona Is The Stuff Nightmares Are Made Of
OK, we admit it: that title is a bit of a stretch, but the place we're talking about today is still pretty creepy. In a state that receives a record amount of sunshine, it's difficult to find places that are particularly scary, since the "dark and stormy night" scenarios rarely play out here. However, if there is any place in the state that routinely receives a reputation for being ridiculously haunted, offering many visitors more than they bargained for during their stay, that location is definitely Jerome. Some call it the creepiest ghost town in Arizona, and we're inclined to agree.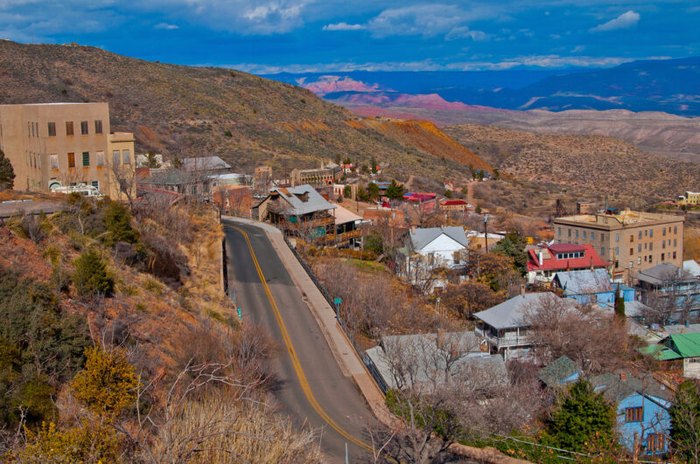 So, have you visited Jerome, Arizona, before? What was your experience like? Drop a comment in the section below, and let us know if you think Jerome should still be considered a ghost town, and whether or not it is creepy to you!
OnlyInYourState may earn compensation through affiliate links in this article.
More to Explore
Creepiest Ghost Town in Arizona
What are some interesting Arizona ghost towns?
Arizona is full of fascinating ghost towns full of history and that wild western charm. Some of the most famous (and possibly most haunted) include towns like Bisbee, which has been converted into a living art museum of sorts, Tombstone, home of the infamous O.K. Corral, Oatman, where wild burros roam the streets and ask visitors for snacks, Goldfield, a recreation of a once-booming mining town near Apache Junction, and Jerome, which was once a booming copper mine and is now full of intriguing shops, wineries, and some of the best Mexican food you've ever had. Want some? Check out our article about this incredible Jerome restaurant, which will definitely have you coming back for more again and again.
Where are some haunted places in Arizona?
You know, usually, when you've got ghost towns, you've got hauntings, and Arizona is certainly no stranger to that philosophy. Every single ghost town you could ever visit in the Copper State has at least one or two famous hauntings, and better still, so do most of the bigger cities and other towns, even if they aren't ghost towns. For example, they say the spirits of several guests to stay throughout the years haunt the Hotel Monte Vista in beautiful Flagstaff, and the Hotel San Carlos in Phoenix is allegedly haunted by the spirit of a woman who committed suicide there in the 1920s. The entire town of Tombstone is said to be haunted (go figure), and legendary ghost town Jerome is the site of one of the most haunted hotels in the country, which used to be an insane asylum.
What are some interesting abandoned places in Arizona?
Arizona has lots of intriguing abandoned places to admire for those of us who appreciate urban exploration. Perhaps one of the most famous abandoned spots is in Casa Grande, known as "The Domes". They're a strange-looking, post-apocalyptic-feeling set of neglected dome-shaped structures filled with graffiti and evidence of past parties held there. There's also what's left of Two Guns, which is a decaying gas station with plenty of street art to admire, and there's even an abandoned town called Santa Claus here, too, which was originally dreamed up as a North Pole themed tourist trap in the desert. You can find abandoned spots no matter where you look; Arizona is teeming with them.
Related Articles
Explore Arizona
Featured Addresses