Step Inside The Creepy, Abandoned Town Of Swansea In Arizona
Finding abandoned places in Arizona isn't difficult. Ghost towns, derelict buildings, and forgotten mining shafts are everywhere, so it's a rare spot to find one almost erased from memory. In such cases, it's typically the distance that separates a well-known ghost town from one history forgot. This is one such town. Step inside the creepiest abandoned town of Swansea AZ.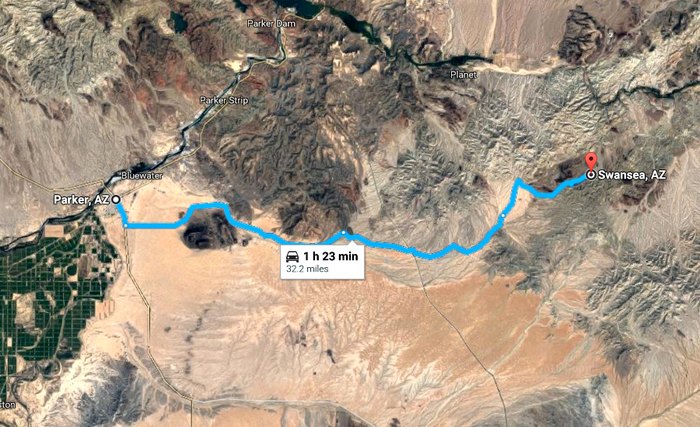 Have you ever visited this abandoned town in Arizona? Do you know of any other abandoned towns in AZ? If so, we want to hear all about your experience in the comments.
Do you love a good ghost story? Do you love the thrill of visiting spooky places in Arizona? If so, check out the nine most haunted places in Arizona today!
OnlyInYourState may earn compensation through affiliate links in this article.
Address: Swansea, AZ 85325, USA
Swansea AZ
September 20, 2019
What other abandoned places are there in Arizona?
There are several abandoned places in Arizona. Black Canyon City Greyhound Park is one of the spookiest. It was once a dog-racing track but was left abandoned in the 1980s. Today, it sits just off the highway in Black Canyon City. Entrance into the area is not permitted, but some photographers have crept over the fence to capture the decay. The Casa Grande Domes are another mysterious abandoned place. These weird structures are covered in graffiti, and people often theorize their meanings.
Are there any hiking trails to abandoned places in Arizona?
One of the most unique hiking trails in the state leads to an abandoned village. After 20 miles of strenuous hiking through Flagstaff's high desert, visitors will encounter the Wupatki National Monument. Due to its popularity, hikers have to enter a lottery system in order to gain access. The journey may be difficult, but the end result is so worth it. History buffs and architecture lovers will adore looking at this magnificent old structure. If you want to learn more about The Crack-In-Rock hike, read our feature article here.
What ghost towns can you find in Arizona?
There are several ghost towns in Arizona. Canyon Diablo, located north of I-40, is a fascinating slice of the past. This tiny village was established as a railroad town in 1880. Soon, it became a hub for saloons, brothels, and gambling. Today, visitors can walk through the old buildings and read plaques about the city's unique history. Jerome is another incredible Arizona town with a spooky history. Like Canyon Diablo, this little town was a hot spot for vices and villainy. Thousands of tourists descend upon this place every year. Some come to soak up the history, and others come hoping to experience paranormal activity. Lurking among the creepy buildings lies some spooky energy. Some say this is the most haunted place in Arizona.