18 Best Hikes In West Virginia: The Top-Rated Hiking Trails To Visit In 2023
Are you looking for the best hikes in West Virginia? From rugged mountains to tranquil forests, these top-rated hiking trails offer an array of experiences for outdoor enthusiasts. Whether you seek panoramic views, cascading waterfalls, or serene meadows, West Virginia's hiking trails have it all. Discover natural wonders and create unforgettable memories as you explore these fantastic hiking destinations.
Best Hikes in West Virginia
The best hikes in West Virginia include the Maryland Heights via Harper's Ferry, the Maryland Heights Loop, and the Endless Wall Trail. These trails offer a perfect blend of adventure and natural beauty, with panoramic views of Harper's Ferry, stunning cliffs, and the majestic New River Gorge. Immerse yourself in the wonders of West Virginia's top-rated hiking experiences.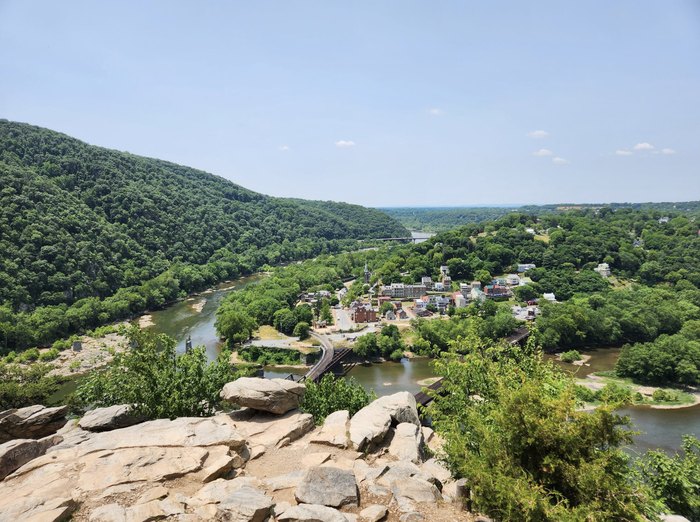 Best Short & Easy Hikes in West Virginia
Take a look at our picks of the best short and easy hikes in West Virginia, featuring the Long Point Trail, the Grandview Rim Trail leading to Turkey Spur Rock, and the Canyon Rim Overlook Boardwalk. These trails offer accessible and leisurely hikes with fantastic views and well-maintained pathways.
Hardest Hikes in West Virginia
Challenge yourself to some of the hardest hikes in West Virginia, featuring the challenging Allegheny Mountain Trail, the rugged North Fork Mountain Trail, and the demanding Tuscarora, Wilson Cove, and Halfmoon Lookout Loop. These hikes test the limits of even the most experienced adventurers, offering steep ascents, rocky terrains, and extraordinary vistas. Prepare for a true outdoor challenge as you conquer these trails and experience the unparalleled beauty of West Virginia's wilderness.
Best Waterfront Hikes in West Virginia
Have you checked out any of these waterfront hikes in West Virginia? Coopers Rock State Forest Loop, Long Point Trail, and Pase Point Trail are your go-to options. Coopers Rock treats you to impressive views, while Long Point lets you walk by the water's edge. And don't miss Pase Point for its gorgeous river scenery.
Best Winter Hikes in West Virginia
Get ready for the best winter hikes in West Virginia! Bundle up and hit the trails like Scott Run and Reservoir Ski Trail Loop, Acorn Ridge Trail, and Tug Fork River Trail. These hikes offer winter scenery, from snowy trails to icy waterways. Whether looking for a leisurely stroll or a moderate adventure, these trails have got you covered. So, grab your boots, put on that cozy hat, and enjoy the winter wonderland of West Virginia.
Best Hikes near Charleston
Ready for some epic hiking adventures near Charleston, West Virginia? Check out the best hikes in the area, including Alice Knight Memorial Trail, Little Creek Park Loop Trail, and The Sunrise Carriage Trail. Alice Knight Memorial Trail offers seasonal scenery, Little Creek Park Loop Trail is perfect for a peaceful stroll, and The Sunrise Carriage Trail is sure to start your day off right. So pack some snacks and get ready to hit the trails for some fun.
Have you checked out these best hiking trails in West Virginia? Do you think they are the top hiking trails and best places to hike in West Virginia? We'd love to hear about your experiences and the trails you're excited to explore. Share your thoughts, and let us know which hiking trails are on your bucket list. We're excited to hear from you!
Whether you're an experienced hiker seeking elevation gain and switchbacks or a beginner looking for a day hike to check out the alpine lakes and mountain ranges, this hub offers a wide range of options to meet your needs. And don't forget to take advantage of the opportunity to try Try AllTrails+ For Free, providing you with even more resources and features for your hiking adventures!
OnlyInYourState may earn compensation through affiliate links in this article. As an Amazon Associate, we earn from qualifying purchases.
More to Explore
The Best Hikes In West Virginia
Does West Virginia have good hiking trails?
West Virginia's best hiking trails include:
Kaymoor Miners Trail
Seneca Rocks Trail in Spruce Knob-Seneca Rocks National Recreation Area
Greenbrier River Trail
Bear Rocks and Lions Head Loop in Dolly Sods Wilderness
What are the best months to hike in West Virginia?
West Virginia is a fantastic year-round destination, but if you're looking for the best time to visit, aim for May, June, and September to mid-November. Late spring brings pleasant weather and a vibrant display of blooming wildflowers, adding an extra touch of beauty to your hiking adventures. Whether you're exploring the trails or taking in scenic landscapes, these months offer an ideal window to immerse yourself in the natural wonders of West Virginia.
Related Articles
Explore West Virginia
Featured Addresses