These 5 Trails In West Virginia Will Lead You To Extraordinary Ruins
The lush forests of West Virginia provide some of the best spots in the country to go hiking, and often you'll find intriguing surprises along the way. Explore these trails to discover abandoned railway tunnels, bits and pieces of crumbled ghost towns, old mining equipment, and more forgotten remnants of civilization that are returning to nature. These West Virginia trails that lead to ruins can't be passed up – trust us!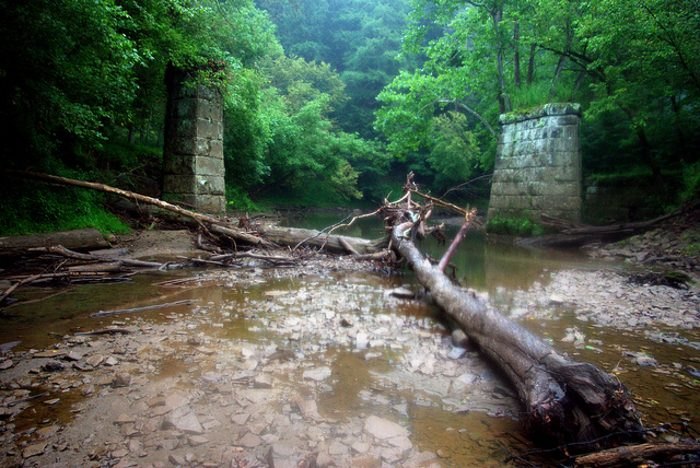 For more great hiking in West Virginia, check out these 9 West Virginia trails that will lead you to unforgettable places. Do you think you have what it takes to conquer these West Virginia trails that lead to ruins (among other things)?
Address: North Bend Rail-Trail, Salem, WV, USA
Address: Narrow Gauge Trail, New Haven, WV 25831, USA
Address: Kaymoor Rd, Fayetteville, WV 25840, USA
Address: Nuttallburg, WV 25840, USA
Address: Clay Run Trail, Huttonsville, WV 26294, USA
West Virginia Trails That Lead to Ruins
February 19, 2021
Where is there good hiking in West Virginia?
West Virginia is the proud home to over 550 trails just waiting to be explored. No matter what part of the state you're in, you're very, very likely to find some beautiful trails close to you. They vary in difficulty from beginner/easy to hard/strenuous, so no matter what your skill level, no worries – there's a trail in West Virginia for you.
What are some unique trails in West Virginia?
There's several super-unique trails throughout West Virginia. One of our favorites is definitely the North Bend Rail Trail, a 72-mile-long stretch of woodsy paradise in which you'll encounter a 2,297 foot long tunnel, as well as an allegedly haunted tunnel. Dare you trek the distance? Dare you face the spirits of the tunnel? Only the brave ever try it. We have faith in you.
What are the most popular trails in West Virginia?
Considering that there are over 550 trails scattered throughout the state to choose from, there are some trails that stick out above the rest in terms of popularity. The Maryland Heights Loop is a beautiful but strenuous trail in Harpers Ferry National Historic Park, while the Endless Wall Trail is a low-key, easy-going trail in New River Gorge. Both are ultra-popular with hikers, and you can't go wrong with either one.
Address: North Bend Rail-Trail, Salem, WV, USA
Address: Narrow Gauge Trail, New Haven, WV 25831, USA
Address: Kaymoor Rd, Fayetteville, WV 25840, USA
Address: Nuttallburg, WV 25840, USA
Address: Clay Run Trail, Huttonsville, WV 26294, USA