The Creepiest Hike In Washington Takes You Through The Ruins Of A Lime Kiln
There is something creepy about wandering past the remnants of a community that has been long since abandoned. What is even creepier is when the ruins of that community are now covered in moss and lichen and surrounded by a persistent mist. If this eerie scene sounds appealing to you, you will want to check out the Lime Kiln Trail in Granite Falls, one of the best hiking trails in Washington.
Almost 100 years ago, the Everett and Monte Cristo Railroad passed through this area, which was then known as the community of Cutoff Junction. It was also the site of a former logging railroad spur and where limestone was converted to lime in huge kilns. Ruins of these abandoned trades and communities remain and we think it is actually kinda cool! So head over to the Lime Kiln Trail to check them out!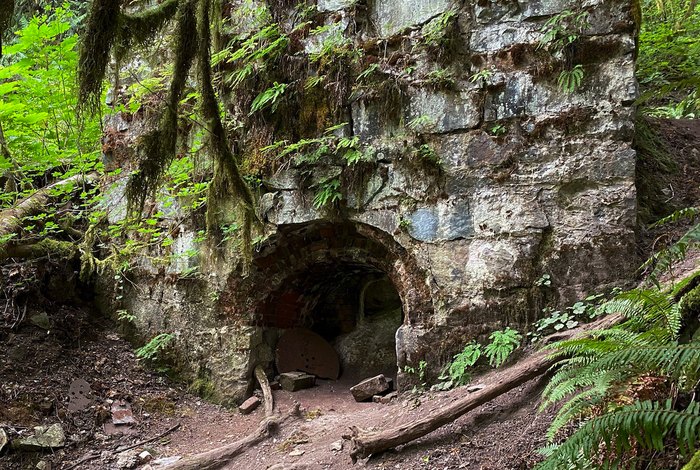 You can learn more about the Lime Kiln Trail on the Washington Trails Association website, as well as on the Association's Facebook page to help you plan your visit!
Are you up for checking out this creepy, but beautiful hike? Have you already been along the Lime Kiln Trail? If so, what was your favorite part? We'd love to read about your experience in the comments section below!
For another abandoned site adventure, be sure to read about these 10 discarded sites that nature is reclaiming.
If you're still in the mood for more Evergreen State adventures, take a look at this video about the Native American History of Snoqualmie Falls:
OnlyInYourState may earn compensation through affiliate links in this article.
Address: Lime Kiln Trailhead, Lime Kiln Trail, Granite Falls, WA 98252, USA
Out and about in Washington
May 24, 2023
Where can we find ghost towns in Washington State?
Alstown was once located along an active railroad line that connected the Columbia River to Mansfield, but the departure of the railroad sealed the town's fate.
Bluestem was named after a certain variety of wheat once grown here and today is peppered with about a dozen abandoned buildings.
Claquato was originally founded in the 1850s, met its demise before 1900, and today is home to the oldest standing building — a Methodist church — in Washington.
Read on to learn more about some of the many other creepy ghost towns in Washington State.
Where can we find the best seafood restaurants in Washington State?
The Waterfront Cafe in La Conner has been voted "One of the Pacific Northwest's Best."
Bennett's Fish Shack, with locations in Ocean Shores and Westport, is known for its halibut or cod fish and chips, clam chowder, and fresh oysters.
Castaways Seafood Grille in Long Beach is loved for its delicious seafood as well as its creative cocktails.
Read on to learn about some of the many other amazing seafood restaurants in Washington State.
Where can we find the best thrift stores in Washington State?
The Fremont Vintage Mall in Seattle sells vintage furniture, home accessories, clothing, and more.
Tossed and Found in Spokane is known for its great selection of vintage items, antiques, and furniture.
The New Beginnings Thrift Store in Richland is chock full of bargains covering everything you can imagine.
Read on to learn about some of the many other thrift stores in Washington State.