The Hidden Beaches Road Trip That Will Show You Virginia Like Never Before
Virginia's gorgeous coastline and waterfront destinations make for the perfect getaway any time of year. Yet sometimes, the busy season, traffic, and crowds can be something of a deterrent in our trip planning. With that in mind, we've created a road trip that hits some of the best hidden beaches in Virginia to ensure you've got that shoreline all to yourself — or at least without massive crowds. In our humble opinion, it's these underrated spots that might just be some of the best beaches in Virginia. So pack up the car with all the road-trip packing essentials: sunscreen, towels, plenty of good music — and get ready to appreciate Virginia like never before! Use this interactive map as your guide.
Note: Many of these beaches don't have the facilities that other public beaches in the state do so be sure to take home all of your belongings and be especially mindful about trash clean-up. The golden rule of leaving it better than you found it definitely applies here!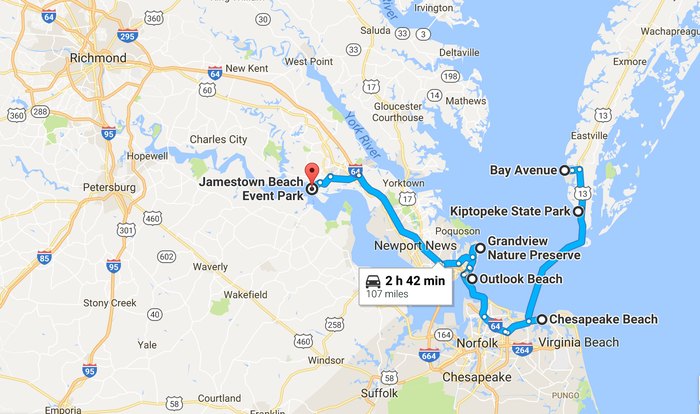 This list covers only a handful of some of the most secluded beaches in Virginia, so be sure to share some of your favorites with us if they missed the list!
Virginia Beach is one of the best places in the US to visit in May, find out why in our featured article of 14 of the best places in the US to visit in May.
OnlyInYourState may earn compensation through affiliate links in this article.
Secluded Beaches In Virginia
June 07, 2019
What are the prettiest beaches in Virginia?
The prettiest beaches in Virginia include:
Virginia Beach
Sandbridge beach
Assateague Island National Seashore
Cape Charles
Buckroe Beach
Colonial Beach
First Landing State Park
Chincoteague Island
Bethel Beach
Virginia boasts some of the most beautiful beaches you'll find on the East Coast. With thousands upon thousands of miles to choose from, it can seem a bit overwhelming to narrow down the best beach in Virginia. Some are on the coast, some are riverfront, lakefront, or even on the bay, and each one is marked by an abundance of natural beauty.
What are the best beach towns in Virginia?
For a laid-back vibe, plenty of history, culture, and friendliness that you can only expect here in Virginia, head to any one of Virginia's lively beach towns. Virginia Beach is perhaps the most well-known, with its famous three-mile boardwalk and countless restaurants and attractions along the way. Head to Cape Charles, Onancock, or Chincoteague to skip the crowds and enjoy a quiet retreat on the Eastern Shore of Virginia.
What beaches have the clearest water in Virginia?
Virginia Beach is popular for its lively wave activity, but if it's clear water you're after, you may want to continue north and dip your toes in the water at Buckroe Beach. Hampton is a resort town that offers beautiful places to stay and a beautiful beach to enjoy. The beach is much smaller than what you'll find at Virginia Beach, but the water is wonderfully swimmable, and visitors love looking for sea glass here. Buckroe Beach in Virginia is a great option if you plan on going with kids.