These 16 Burger Joints In Virginia Will Make Your Taste Buds Explode
Burgers are like opinions. Everyone thinks theirs is the best. Like any food, it all comes down to taste. But when it comes to winning the hearts — and stomachs — of Virginia, these 16 places are ranked at the top. Even if you're a die-hard fan of your local burger joint, or won't eat anything you haven't cooked on the grill yourself, these burgers are worth checking out. You'll thank me, I promise.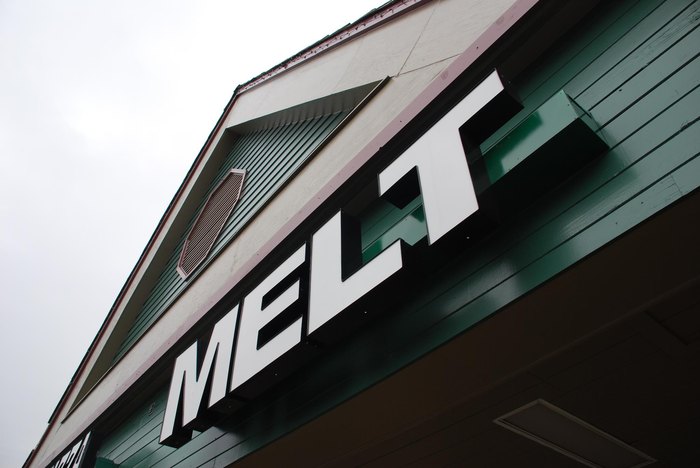 What to try: The Diner "Blue Plate" Special. An extra-large beef burger with applwood smoked bacon, homemade pimento cheese, lettuce, tomato, a sunny side-up fried egg and signature house sauce. Once you see the size of these burgers, you're not going to want more than one meal, so you might as well pack all three into one stunning burger.
Other perks: All of their buns are made in-house and baked fresh daily. Plus, they offer "Burger of the Month Specials" and fantastic fries. It's clear to see why MELT has been voted "Best Burger in Loudoun" 3 years running.
What to try: The Red Devil. A wood-grilled burger with white cheddar, sautéed jalapeño and habanero peppers and signature "Rivah" sauce. It might melt your face, but it will be so very worth it.
Other perks: Voted "Best Burger in Virginia" in Virginia Living Magazine's reader poll. Add incredible "twister" fries and live music and that pretty much seals the deal.
What to try: The Redneck Wellington. This burger is served with mushroom duxelles, bourbon mustard and herbed goat cheese – all wrapped and baked in puff pastry. Yes, please.
Other perks: This Norfolk favorite features farm-to-table freshness with all of the meats sourced from local farms. Plus they have live music and great beer. How could you say no?
What to try: The Aucklander. Grass fed beef, avocado relish, uncured bacon, mayonnaise, New Zealand Egmont cheese, tomato, Dijonaise, & mixed field greens. It's the best thing from New Zealand since their rugby team.
Other perks: This New Zealand-inspired gastro pub is dedicated to organic. All of their meats are grass fed and/or free range and their produce and dairy is organic from New Zealand or locally sourced. The bonus? More than a dozen dipping sauce options for the fries.
What to try: The Southern. Timbercreek beef, housemade pimento cheese, bacon, mustard, lettuce and tomato. And whatever you do, absolutely try the truffle fries with truffle oil, parmesan and galic aioli.
Other perks: They believe that a great burger with a great beer is your civic responsibility. Plus, the meats are local, the cheese is Virginia made and the bar is well-stocked – and there are vegetarian and vegan options. You can't go wrong. Really, it's the least you can do as a good citizen.
What to try: The Apple Brie Burger. Featuring ground beef from The Taylor-Wright Farm Company in Brodnax served with whiskey caramelized apples, brie, bacon, arugula and honey mayo (with honey from Yerby's Honey in Lunenburg County) on a whole wheat bun. Talk about local goodness…all on one plate.
Other perks: Looks can be deceiving, so don't let the hole-in-the-wall appearance fool you. This place serves a seriously amazing burger and has the Virginia is for Lovers Culinary Challenge Finalist 2015 plaque and Certificate of Excellence from TripAdvisor to prove it. Some people say this is the best burger in the world.
What to try: Anything. But you can always start with a "Burger of the Day" like the The Green Dragon. It's an Angus burger with wasabi cream cheese, avocado, jalapeños, crispy onions, Sriracha aioli and sweet soy glaze. Why? Because it is AMAZING.
Other perks: You can build your own burger by filling out the order sheet or choose from any signature burger — all orders come with the option of the 1/3 lb. "Skinny Cow" or 2/3 lb. "Holy Grail" patty. Plus, 25 cents from every burger sold goes to an ACT for Alexandria charity.
What to try: The Greg Brady. 100% Wagyu beef, topped with mac n' cheese and Martin's barbecue chips. There are so many things I could say here, but I don't think I need to. Some burgers speak for themselves.
Other perks: This JMU classic joint (now in multiple locations) is all about a simple burger – except for their crazy delicious toppings. Don't ask for lettuce and tomato, just sit back and enjoy The Elvis (peanut butter, mayo, bacon and cheese), The Danny Laruso (cream chees and jalapeno jelly) or try the special of the day like The Driller (shown above) with poblano peppers, mango salsa, goat cheese and bacon.
What to try: The Cavern Burger. It's just plain and simple goodness. Fresh ground beef, handmade into a patty and served with lettuce, tomato, pickle, onion, ketchup, mustard, and mayo. Get it with cheese, bacon, as a single or a double. No matter what, you won't be sorry.
Other perks:  Dine-in or drive-thru, just don't miss this amazing burger and be sure to try the frozen custard for dessert. It's the perfect pick-me-up for a post-hike meal — or any occasion.
What to try: Oh My Cheese! Take two grilled cheese sandwiches and put a burger patty in the middle. "Oh my" is exactly right.
Other perks: The old-fashioned diner décor and hometown feel makes these amazing burgers taste just that much better. Burger Bar has been a local favorite since 1942 and rumor has it, it was the last place Hank Williams was seen alive.
What to try: Any hamburger or cheeseburger with a side order of hand-cut homemade potato chips. Or if you're feeling especially brave, go for the Fender Bender – a layered grilled cheese, hamburger and bacon cheeseburger all-in-one.
Other perks: Not to be confused with a "drive-thru", this hometown favorite offers old-fashioned, friendly service in their 1950s themed diner. They were voted "Southwest Virginia's Best Burger" in the 2015 Virginia Living Magazine's Best of Virginia and it's no wonder!
What to try: The Station Burger. An Angus beef patty with Smithfield ham, Smithfield bacon, cheese, lettuce, tomato and jumbo lump crabmeat. This amazing burger is the town of Smithfield on a bun.
Other perks: The restaurant at Smithfield Station is far from a "burger joint", but the Station Burger helps them hold their own in the rankings. The gorgeous river views and an all-around awesome menu make this waterfront inn the perfect place for a burger this summer.
What to try: The Truffle Burger. Ground filet mignon mixed with truffle mushrooms, lettuce, tomato, red onion and truffle mayo. If ever there was a "gourmet" burger, this is it.
Other perks: Within less than a year of opening in 2014, this Belgian café (with a menu that goes well beyond burgers) won the Burger Beatdown in Richmond and the Truffle Burger was named "best burger in RVA." This is definitely a place worth checking out.
What to try: Make your own "Hell Burger." A 10-oz premium steak patty (aged in-house and ground daily) and served up with your choice of spiciness, toppings and cheese. If you need a little more direction and are feeling a bit indulgent, go for The Fat Joe – topped with foie gras, white truffle oil, crispy-fried shallots and tomato.
Other perks: Ray's the to Third is the reincarnation of the D.C. area's beloved Hell Burger restaurant and part of the Ray's The Steaks empire – so you know it will be busy, but delicious.
What to try: The Odin Burger. A handmade patty topped with cheese,"Viking" sauce, a fried onion ring and pickle. This is definitely warrior food – especially if you make it a double.
Other perks: You may not associate perfectly grilled burgers and crispy fries with Vikings, but you will after you try Viking Burgers. Apparently Norsemen know their way around a grill.
What to try: A Weekly Special like The Basil Burger. A locally-sourced fresh beef patty, topped with melted provolone, tomato, basil from a local greenhouse and balsamic vinaigrette. It's purely delicious.
Other perks: You may remember Pure Eats from our "best donuts" article, but they are more than just donuts. Only the freshest local ingredients go into Pure Eats' food, which makes for a better-than-you-can-imagine kind of burger. The menu is small, but the taste is huge.
If you're not craving a big, juice burger by now, then you may not have a pulse. Of course, you may not have one after eating some of these crazy creations, but you have to admit, that's not a bad way to go! Now that we've told you some of our favorite burger joints in Virginia, we want to hear yours! Let us know in the comments below.
OnlyInYourState may earn compensation through affiliate links in this article.
Related Articles
Explore Virginia