There's A Delicious Steakhouse Hiding Inside This Old Vermont Barn That's Begging For A Visit
In the picturesque landscape of Vermont, where rural charm meets culinary excellence, steakhouses in Vermont hold a special place. Nestled within the quaint country village of Pawlet, one such gem stands out, offering an unforgettable dining experience in an unexpected setting. This hidden treasure transforms an old, weather-beaten dairy barn into a culinary haven where the aroma of perfectly seared steaks fills the air. Step inside, and you'll be enveloped by a cozy ambiance, complete with rustic wooden beams and a crackling fireplace, creating an inviting atmosphere that beckons both locals and travelers alike. Indulge your taste buds in the finest cuts of locally sourced, mouthwatering steaks meticulously prepared by skilled chefs, showcasing the true essence of Vermont's gastronomic prowess. If you're looking for the best steaks in Vermont then you've come to the right place. Get ready for mouthwatering cuisine at the Barn Restaurant & Tavern.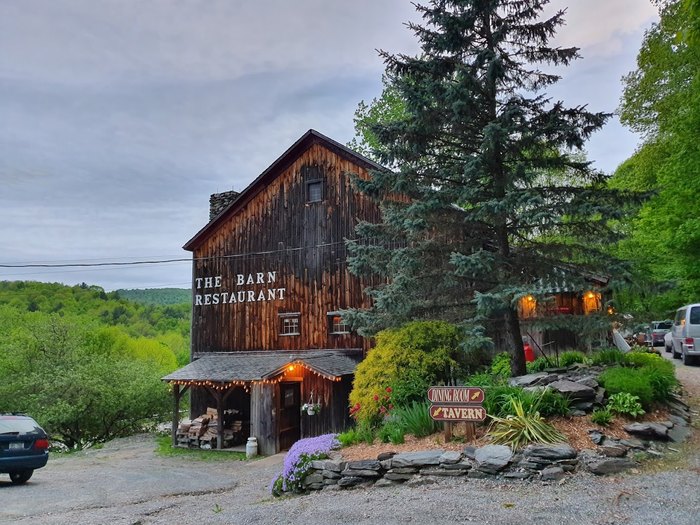 This tasty carnivores' haven isn't just home to some of the best steaks in Vermont – this is a fantastic small-town community experience you won't want to miss!
For menus, hours, and more information about live performances, check out the Barn Restaurant & Tavern's website and Facebook page.
Next, turn your rural dining venture into a road trip! Check out some of our favorite scenic routes around the state (hint: if you start with the Stone Valley Scenic Byway, you'll pass right through Pawlet!).
OnlyInYourState may earn compensation through affiliate links in this article.
Address: The Barn, 5581 VT-30, Pawlet, VT 05761, USA
Steakhouses in Vermont & Related Info
May 15, 2023
Where are the best places to get steak in Vermont? 
Vermont is renowned for its exceptional farm-to-table dining, and when it comes to steak, the state boasts a bevy of both small-town restaurants and fine dining steak options! Some of the best steakhouses in Vermont are:
Back Behind Saloon Restaurant, Bridgewater
The Barn Restaurant & Tavern, Pawlet
Bistro Henry, Manchester Center
Black Rock Steakhouse, Springfield
Blue Cat Café, Burlington
Eastside Restaurant and Pub, Newport
Cornerstone Pub & Kitchen, Barre
EB Strong's, Burlington
Fire & Ice Restaurant, Middlebury
Guild Tavern, South Burlington
Hen Of The Wood, Waterbury
J. Morgan's Steakhouse, Montpelier
Nipper's Café & Steakhouse, Manchester Center
The Palms Restaurant, Rutland
The Publyck House, Bennington
Sam's Steakhouse, Ludlow
Southside Steakhouse, Rutland
Ye Olde Tavern, Manchester
What are the best hidden gem restaurants in Vermont?
Vermont boasts an array of unassuming yet deliciously remarkable restaurants, from quaint and historic small-town diners to off-the-beaten path eateries. These lively hole-in-the-wall locales may slide under the radar, but all are worth a visit! Here are just a few hidden gem restaurants in Vermont:
Bar Antidote, Vergennes
Lil' Britain, Bennington
Mad Taco, Montpelier
Manhattan Pizza & Pub, Burlington
Moon Dog Café, Bellows Falls
Silver Fork, Manchester
Sandwich Shoppe, Rutland
Three Penny Taproom, Montpelier
Two Tamales, East Burke