10 State Parks In Utah You've Never Heard Of But Should Visit Immediately
Utah's National Parks get a lot of recognition, and they're incredibly popular with both residents and tourists. But did you know that Utah also has 45 state parks? These protected areas provide Utahns (and visitors) with tons of fishing, camping, ATV riding, skiing, golfing and so much more. They also preserve much of Utah's history.Take a look: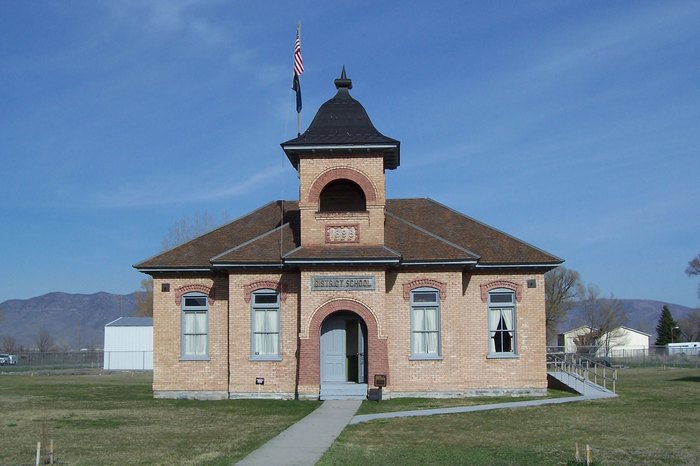 What's your favorite Utah state park? Tell us in the comments! Did you know that This Is The Place Heritage Park is also a Utah state park? It's a magical place to visit during the holidays!
Address: Wasatch Mountain State Park, 1281 Warm Springs Rd, Midway, UT 84049, USA
Address: Red Fleet State Park, 8750 N Hwy 191, Vernal, UT 84078, USA
Address: Anasazi State Park Museum, 460 UT-12, Boulder, UT 84716, USA
Address: Escalante Petrified Forest State Park, 710 Reservoir Rd, Escalante, UT 84726, USA
Address: Camp Floyd State Park, 69 W Main St, Fairfield, UT 84013, USA
Address: Goosenecks State Park, UT-316, Mexican Hat, UT 84531, USA
Address: Frontier Homestead State Park Museum, 635 N Main St, Cedar City, UT 84721, USA
Address: Gunlock State Park, Gunlock Rd, Gunlock, UT 84733, USA
Address: Palisade State Park, 2200 E Palisade Rd, Sterling, UT 84665, USA
Address: Snow Canyon State Park, 1002 Snow Canyon Dr, Ivins, UT 84738, USA
State Parks to Visit in Utah
February 16, 2022
What are the best state parks in Utah?  
Utah is home to 43 state parks, each seemingly more amazing than the last, and then just when you think you've reached the pinnacle of Utah awesomeness, you find another that blows your mind even more. For example, Antelope Island State Park is famous with photographers thanks to its incredibly photogenic nature. It's got an incredible beach (yes, we have those here!) and is wonderful for those who enjoy watching wildlife. Dead Horse Point State Park might sound like a scary place, but it's far from it; it's host to incredible canyon views 2000 feet above the valley floor, and the views of the Colorado River from up there are second to none. Lovers of oddball natural wonders will love the hoodoos at Goblin Valley State Park, where the "goblins" in question are the aforementioned geological oddities all over the place. Finally – though this list is nowhere near all-encompassing – there's Gunlock State Park in southwestern Utah, which has waterfalls and can be found just 15 miles northwest of St. George. Take a look at these lesser-known state parks in Utah for some more inspiration for your next outing.  
What are the best hiking trails in Utah?  
With more than 3,000 awesome hiking trails in this beautiful state to choose from, it can be pretty difficult to know (or choose) where to begin. Let us help you! Among our favorites are the amazing Angels Landing Trail, which is tough but well worth the 4.4-mile trek through narrow segments and steep drop-offs for the incredible panoramic views of Zion National Park. Within Arches National Park is the famous Delicate Arch Trail, which is 3.2 miles of moderately challenging, but highly rewarding, terrain. It leads to Utah's most recognizable rock arch formation, so make sure the camera is ready for that one. The Queen's Garden Trail, at Bryce Canyon National Park, is 2.9 miles of awesome views and hoodoo formations, and then Lake Blanche Trail, in the Twin Peaks Wilderness, is a hard-but-awesome 6.8-mile trek to a remote mountaintop lake with plentiful wildlife.  
Address: Wasatch Mountain State Park, 1281 Warm Springs Rd, Midway, UT 84049, USA
Address: Red Fleet State Park, 8750 N Hwy 191, Vernal, UT 84078, USA
Address: Anasazi State Park Museum, 460 UT-12, Boulder, UT 84716, USA
Address: Escalante Petrified Forest State Park, 710 Reservoir Rd, Escalante, UT 84726, USA
Address: Camp Floyd State Park, 69 W Main St, Fairfield, UT 84013, USA
Address: Goosenecks State Park, UT-316, Mexican Hat, UT 84531, USA
Address: Frontier Homestead State Park Museum, 635 N Main St, Cedar City, UT 84721, USA
Address: Gunlock State Park, Gunlock Rd, Gunlock, UT 84733, USA
Address: Palisade State Park, 2200 E Palisade Rd, Sterling, UT 84665, USA
Address: Snow Canyon State Park, 1002 Snow Canyon Dr, Ivins, UT 84738, USA