Posted in USA
September 18, 2022
Here Are The 16 Most Charming Small Towns In The U.S.
No one is arguing that cities aren't great. There's something to be said for the convenience and culture of a large metropolis. However, small town America offers its own host of charms. Whether its natural beauty, a close-knit community, or just the pleasure of knowing your neighbors, there's no place like home when you live in an adorable small town. Check out our list of charming small towns in America. Some are classics and some are lesser-known gems, but all deliver on the promise of hospitality and true charm.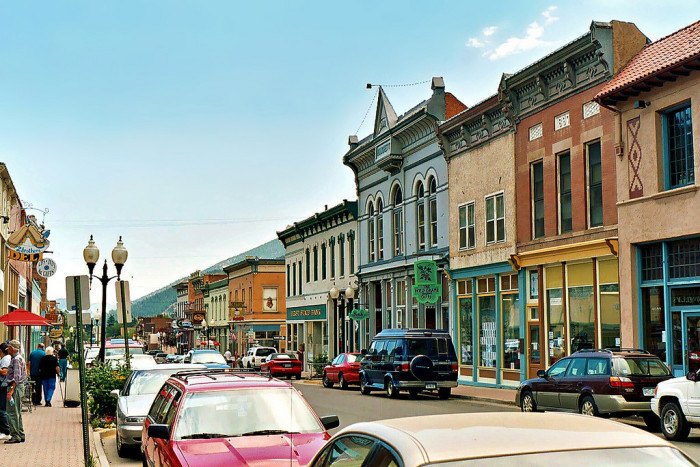 Which towns gets your vote for most charming small towns in America? Do you prefer small town living or the bustle of the big city? Let us know! If you are a lover of city life, then take a look at our list of the best cities in America to visit as a solo traveler.
Address: Spearfish, SD, USA
Address: Northfield, MN 55057, USA
Address: Idaho Springs, CO, USA
Address: Ouray, CO, USA
Address: Stowe, VT 05672, USA
Address: Middletown, RI, USA
Address: Sitka, AK, USA
Address: Mystic, Stonington, CT, USA
Address: Cottonwood Falls, KS 66845, USA
Address: Stuart, FL, USA
Address: Bar Harbor, ME, USA
Address: Newburyport, MA, USA
Address: Hailey, ID 83333, USA
Address: Traverse City, MI, USA
Address: Lake Wobegon Trail, Albany, MN, USA
Address: Paia, HI 96779, USA
Best of America
September 22, 2022
What are some of the best waterfalls in America? 
There are so many stunning waterfalls in America, every state has at least one and a few have hundreds, so it's hard to name the best, but we do have a few favorites. Rifle Falls in Colorado is a stunning sight featuring three separate falls over 80 feet tall. And not only is it impressive, it's accessible! The falls are only .1 miles to the road and wheelchairs can easily get a great view of them. We also think you will be impressed with a visit to Shoshone Falls in Idaho, it's no wonder these gorgeous falls are known as the Niagara Falls of the West due to their unique horseshoe shape and all the mist that comes off of them.
Where is the best food in America? 
We have put together a couple different lists to help you answer this question yourself, since everyone's tastes vary, we want to give you lots of options. Each state has its delicacies and beloved spots, so first you might want to look at our list of the best dish from each state. From Arkansas' fried pickles, to Florida's renowned Cubans, you may just find your mouth watering enough to book a flight right now! You can also take a look at our bucket list for foodies and get on the road to check out amazing classics in the French Quarter, take a food tour through New York, or chow down on Chicago deep dish.
What towns in America are the best to raise a family? 
We here at Only In Your State have a great passion for the tradition of roadside attractions in America. While some may call them tourist traps, we see them as a unique opportunity to discover the culture of a new area. In Idaho you can spend the night inside the worlds largest beagle, don't worry, it's just a funky dog shaped Air B&B. Or maybe a drive down an enchanted highway in North Dakota is more your style? The massive tin sculptures that line this road are sure to make your jaw drop. And or course, we know the USA has a penchant for building the worlds largest… everything, so we know you'll love a visit to the worlds largest ball of twine in Kansas!
Address: Spearfish, SD, USA
Address: Northfield, MN 55057, USA
Address: Idaho Springs, CO, USA
Address: Ouray, CO, USA
Address: Stowe, VT 05672, USA
Address: Middletown, RI, USA
Address: Sitka, AK, USA
Address: Mystic, Stonington, CT, USA
Address: Cottonwood Falls, KS 66845, USA
Address: Stuart, FL, USA
Address: Bar Harbor, ME, USA
Address: Newburyport, MA, USA
Address: Hailey, ID 83333, USA
Address: Traverse City, MI, USA
Address: Lake Wobegon Trail, Albany, MN, USA
Address: Paia, HI 96779, USA