Posted in Texas
September 05, 2022
5 Epic Train Rides In Texas That Will Give You An Unforgettable Experience
Train rides are so nostalgic – they transport us back to simpler days before cell phones and radios, days when looking out the window and enjoying the scenery was the only option on a long road trip. If you want to experience the abundant breathtaking beauty of Texas in a unique way, this is your chance. Here are five unforgettable train trips in Texas.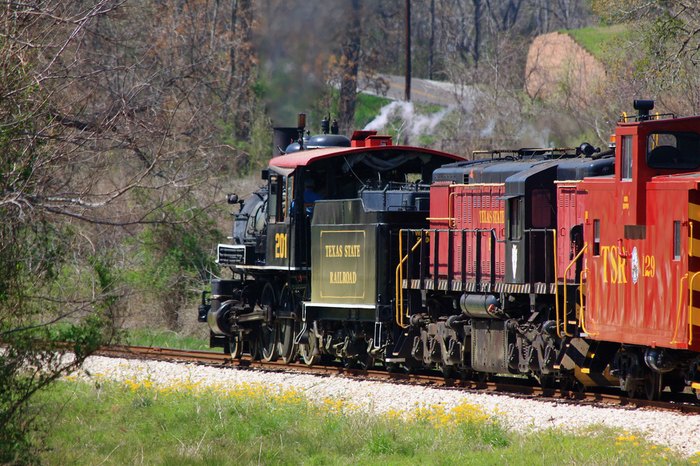 Have you ever been on any of these train trips in Texas? What was your experience like?
Looking for an epic, train-themed day trip extravaganza in Texas? We put together this railroad-themed road trip in Texas that will take you to train rides, historic sites, and much more throughout our great state.
Address: Texas State Railroad Palestine Depot, 789 Park Rd 70, Palestine, TX 75801, USA
Address: Grapevine Vintage Railroad, 707 S Main St, Grapevine, TX 76051, USA
Address: Historic Jefferson Railway, 400 E Austin St, Jefferson, TX 75657, USA
Address: Austin Steam Train Association Museum, 401 E Whitestone Blvd C-100, Cedar Park, TX 78613, USA
Train trips in Texas
September 10, 2022
Are there any dinner trains in Texas?
If the idea of enjoying a delicious meal during one of the above train trips in Texas sounds like your ideal night out, you'll definitely want to check out the offerings at the Texas State Railroad. Known for their amazing offerings, you'll find everything from dinner trains and lunch trains to adults-only events like Wines in the Pines and themed date nights like the popular Speakeasy Special!
Address: Texas State Railroad Palestine Depot, 789 Park Rd 70, Palestine, TX 75801, USA
Address: Grapevine Vintage Railroad, 707 S Main St, Grapevine, TX 76051, USA
Address: Historic Jefferson Railway, 400 E Austin St, Jefferson, TX 75657, USA
Address: Austin Steam Train Association Museum, 401 E Whitestone Blvd C-100, Cedar Park, TX 78613, USA