The Scrumptious Road Trip That Lets You Try 9 Of The Best Restaurants In Texas
The best road trips are the ones that involve delicious food, right? Texas is just full of so many amazing places to eat, and it seems impossible to try all of them in a lifetime – so we're going to do the next best thing and try a few of the very best, most iconic restaurants in a few of the major cities. Gas up the tank and get ready to enjoy this Texas restaurant road trip. Have fun, and try not to get too full!
As usual, the Google Map with exact directions can be found here.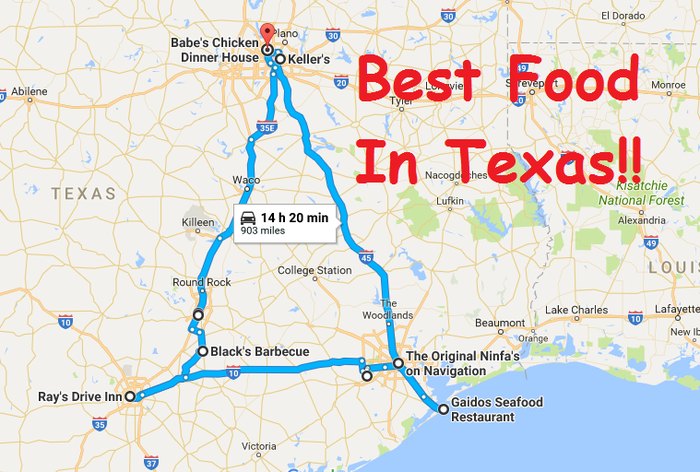 Have you eaten at any of these places? Which one is your favorite? Share your thoughts with us in the comments below! And if you know another exceptional eatery we should feature, nominate it through our online form here.
Still looking for the best restaurants in Texas? Take this scrumptious BBQ road trip through the Lone Star State.
OnlyInYourState may earn compensation through affiliate links in this article.
Address: 1006 W Main St, Carrollton, TX 75006, USA
Address: 10554 Harry Hines Blvd, Dallas, TX 75220, USA
Address: 4208 Menchaca Rd, Austin, TX 78704, USA
Address: 900 E 11th St, Austin, TX 78702, USA
Address: 215 N Main St, Lockhart, TX 78644, USA
Address: 822 SW 19th St, San Antonio, TX 78207, USA
Address: 815 Plantation Dr, Richmond, TX 77406, USA
Address: 2704 Navigation Blvd, Houston, TX 77003, USA
Address: 3828 Seawall Blvd, Galveston, TX 77550, USA
Texas restaurant road trip
May 26, 2020
What are the best restaurants in Texas?
It's no surprise that us Texans love a hearty plate of comfort food. And sometimes, nothing hits the spot quite like a heaping plate of enchiladas. For some of the best Tex Mex in the state, visit Matt's El Rancho in Austin. This iconic eatery has been around for decades, and they serve hundreds of hungry diners every week. Whether you indulge in their famous Bob Armstrong dip or wow-worthy chile rellenos, one thing is certain: You'll love every last bite.
What are the best places to go for day trips in Texas?
Looking for a fun outing? There are so many wonderful places to take day trips in Texas. If you love shopping, pay a visit to Fredericksburg. This charming German town is full of one-of-a-kind boutiques. You can shop for everything from cowboy hats to fine wine. If it's history you're after, plan an adventure to San Antonio. In addition to the awe-inspiring Alamo, this city is home to amazing museums.
What are the most famous Texas restaurants?
The Big Texan, located in Amarillo, is one of the most famous Texas restaurants. You'll know you've arrived when you see their iconic bright yellow building. But delicious comfort food meals aren't the only thing they're famous for. They're perhaps most known for their epic 72 ounce steak challenge. Are you hungry enough to take home the prize?