An Iconic Barbecue Joint In Texas, Franklin Was Recently Named The Best In The State
If there's one thing we know here in Texas, it's barbecue. There are almost too many good BBQ joints throughout the state to decide where to eat first! The famous Franklin Barbecue in Austin should be at the very top of your list, just like it was for Texas Monthly. You might have to wait a few hours since it's so popular, but trust us, it's well worth it. You'll be hard-pressed to find meat of this quality anywhere else in the state (and possibly the country).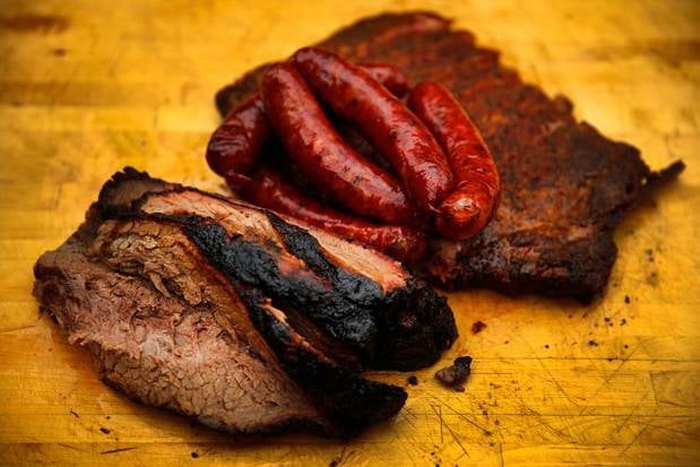 Have you ever been to Franklin Barbecue in Austin? What's your favorite dish on the menu? Share your thoughts with us in the comments below! And if you know another amazing BBQ joint in the Lone Star State, nominate it for a chance to be featured.
If you're looking for more lip-smacking goodness, check out these incredible small town BBQ restaurants in Texas.
Address: Franklin Barbecue, 900 E 11th St, Austin, TX 78702, USA
Franklin BBQ in Austin
September 15, 2020
Where can I find the best BBQ in Texas?
There are so many scrumptious BBQ restaurants in Texas! Of course, Franklin is always at the top of the list, but it's by no means the only place you can get incredible smoked meat. Snow's, located in Lexington, has also garnered quite a following. Like Franklin, this small town BBQ joint attracts long lines first thing in the morning. People come from all around just to sink their teeth into their tender chicken, brisket, and pulled pork. If you don't feel like waiting in line, check out these extraordinary BBQ sandwiches in Texas. These places won't make you get up at the crack of dawn.
What are the most famous restaurants in Texas?
The Big Texan, located in Amarillo, is one of the most famous restaurants in Texas. This giant yellow restaurant is known for their epic 72-ounce steak challenge. If you can eat the entire meal, complete with sides and a salad, in the allotted time — your meal is free! Of course, you don't have to gorge yourself of giant steaks if you don't want to. This iconic Texas restaurant also serves normal-sized portions. It's comfort food in all its glory!
What are the best Mexican restaurants in Texas?
You don't have to go far to find amazing Mexican food in Texas. Tasty tacos, burritos, and flautas are pretty much everywhere you turn. If you find yourself in Austin, you have to get yourself some enchiladas from Matt's El Rancho. This long-standing eatery has even served meals to former president LBJ! As soon as you walk in, the smell of freshly fried tortilla chips will greet you. If that doesn't whet your appetite, nothing will.
Address: Franklin Barbecue, 900 E 11th St, Austin, TX 78702, USA