A Quick Detour Is All It Takes To Access One Of Tennessee's Most Picturesque Waterfalls
Finding a beautiful waterfall in Tennessee is a must if you're visiting the Volunteer State. And, if you're anything like us, you've likely researched "waterfalls near Townsend, TN" more than a time or two. Known for its rocky underbelly and mountainous waterways, Tennessee is a true dream for outdoorsy folk and beauty-seekers alike. Meigs Falls is located in the heart of the Great Smoky Mountains, right in Townsend. Although it's one of the prettiest waterfalls in Tennessee, it requires no hiking to visit. You can see it by pulling the car over and taking a moment to indulge in a few minutes of beauty. Learn all about Meigs Falls below, and perhaps plan a road trip for yourself. The return is well worth the investment!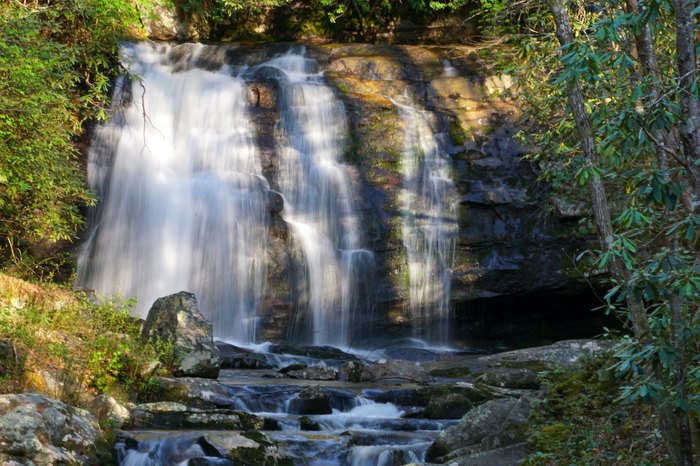 If you have any questions, you can learn more about the Great Smoky Mountains National Park. The next time you're researching Tennessee waterfalls, we hope this special destination comes to mind. For more easy-to-access waterfalls in the Volunteer State, check out our list of easy-to-get-to waterfalls in Tennessee that are perfect for a day trip adventure.
If you're hungry after your waterfall adventure, make sure to check out The Abby in Townsend. Yum!
OnlyInYourState may earn compensation through affiliate links in this article. As an Amazon Associate, we earn from qualifying purchases.
More to Explore
waterfalls near me
What are the best waterfalls to visit in Tennessee?
Here are a few of the best waterfalls in Tennessee:
If you're someone who enjoys waterfalls, you'll be pleased to hear that Tennessee is nothing short of a waterfall paradise. Some waterfalls are tucked away deep within the woods while others are hiding in plain sight. We're partial to waterfalls that you can hike to though, as they offer the perfect day trip destination. One of our favorite waterfall hikes is known as Cane Creek Cascades. Located in Fall Creek Falls State Park, this waterfall is easy to get to, making it the perfect option if you're hiking with kiddos.
Looking for an all-day trek? Virgin Falls might just be the ticket. This beautiful waterfall isn't exactly easy to get to; the trail measures 8.3 miles. But, the views along the way will make your efforts worthwhile. Next up on our list of amazing waterfall hikes in Tennessee is Burgess Falls Trail. A little over a mile, this trail is best hiked between January and September. Some other waterfall trails worth seeking out include Greeter Falls, Ozone Falls, Abrams Falls, Hen Wallow Falls, Grotto Falls, Stinging Fork Falls, Cummins Falls, and Twin Falls.
What's the tallest waterfall in Tennessee?
Although we're not sure how many waterfalls there are in Tennessee, we know the tallest waterfall in Tennessee is Fall Creek Falls at 256 feet tall.
Tennessee is home to lots of gorgeous waterfalls. The title of the tallest waterfall in Tennessee, however, goes to Fall Creek Falls. This iconic waterfall measures 256 feet! Some other contenders are Ruby Falls at 145 feet, Burgess Falls at 135 feet, and Cummins Falls at 75 feet.
Related Articles
Explore Tennessee
Featured Addresses

Old State Hwy 73 Scenic, Townsend, TN 37882, USA