The Old Zoo In Griffith Park Might Just Be The Most Haunted Park In Southern California
As one of the most popular parks in Los Angeles, Griffith Park has a secret that will send chills up your spine. On the east side of the park, there's an abandoned zoo that now serves as a picnic area. During the day, visitors can eat lunch at the many tables around. However, at night it's said that the cryptic cages come alive with the ghosts of animals who died there. What mystery lies behind this abandoned and haunted LA zoo?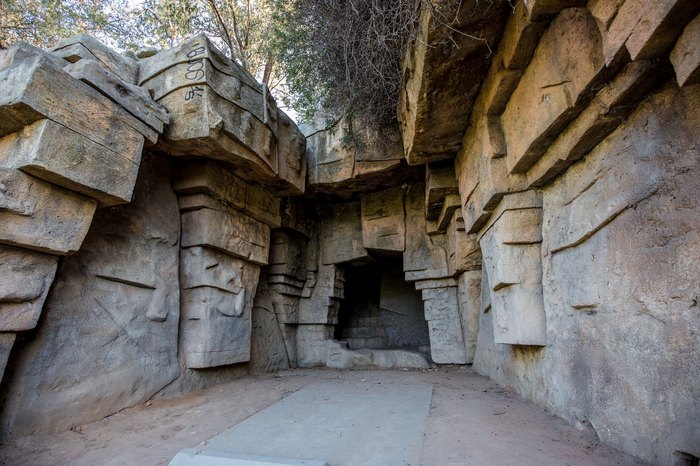 Would you visit this abandoned zoo? What about at night? Share with us your ghost stories if you've been here before. We want to know all about it! Visit Griffith Park's website for directions and more information on local attractions and activities available.
Address: 4801 Griffith Park Dr, Los Angeles, CA 90027, USA
Haunted LA Zoo
September 06, 2022
In addition to Griffith Park Zoo, what are some other haunted places in LA and SoCal?
If you're looking for some spooky, spine-tingling adventure in SoCal, you have lots of options! For starters, there's the Cobb Estate, an abandoned mansion you'll find along a SoCal hiking trail. Located in the Santa Monica Mountains along the Solstice Canyon Trail, you'll find what remains of an old 1930s mansion – The Cobb Estate – that was destroyed in a forest long ago. The entire experience is creepy from start to finish. 
In the early 1900s, this area of land was originally owned by Charles Cobb, who made his mark as a lumber magnate and built a sprawling mansion for his family. After his death, this land changed hands many times before the mansion and the land fell into disrepair; the mansion was eventually demolished in 1959. Finally, in 1967, the land was deeded to the United States Forest Service as a free-growth arboretum. Today, this short brick wall and the original steps that led to the estate are the only remains of the sprawling Cobb Manor. You'll pass this spot shortly after you pass through the gate. 
The trail to reach the Cobb Estate is just over three miles, so it's the perfect distance to stretch your legs — but beware. There are widespread claims of hearing loud screams and unexplained laughter coming from this forest late at night, leading some to believe this is a witches' forest in Los Angeles. Other folks have reported seeing strange lights moving up and down the hill deep inside the forest when there was no one else around. Other claims include sensations of being touched and also being watched.
Another haunted locale in LA is Evergreen Cemetery, one of the oldest, largest, and creepiest cemeteries in SoCal. In fact, in terms of haunted cemeteries in SoCal, El Campo Santo Cemetery is considered to be at the top of the list. While it's an immensely beautiful place, with intricate burial sites and enclosed graves, there are some deceased here who didn't get so lucky — numerous grave sites were unfortunately paved over to make room for the nearby roads, and it's said that some of the dead felt disrespected by this change. There have been sightings of lights flickering on and off, alarms going off, and cars not starting when they are parked in this area.
Address: 4801 Griffith Park Dr, Los Angeles, CA 90027, USA