The Entire Menu At Pomegranate On Main Is So Good, You'll Want To Order One Of Everything
It's so refreshing to discover a restaurant with menu options that are different from what everyone else is doing. One can only eat so many of the same things day in and day out without feeling an incredible sense of boredom, especially those with well-developed palates! It could be one reason why the Pinterest platform became a go-to for foodies looking for fresh recipe ideas. Imagine an eatery not only with a unique menu but also where the food tastes so good you realize it's an order-one-of-everything restaurant in South Carolina. Pomegranate on Main in Greenville is exactly this!
Its co-founder, Ali Saifi, is a long-time South Carolina resident of over 40 years, having moved here from Iran-Persia. His vision of starting the restaurant was based on a desire to give back to the community that he has come to love and deeply appreciate over these many years.
Mr. Saifi was living comfortably at the time and did not need to open a restaurant for income. This alone speaks for itself and for the wild success Pomegranate on Main has become. As businessman Harvey MacKay put it, "Find something you love to do, and you'll never work a day in your life." The passion Mr. Saifi has for this restaurant and for creating an "experience to savor" for guests shines through when he speaks. Even he does not have a single favorite item on the menu!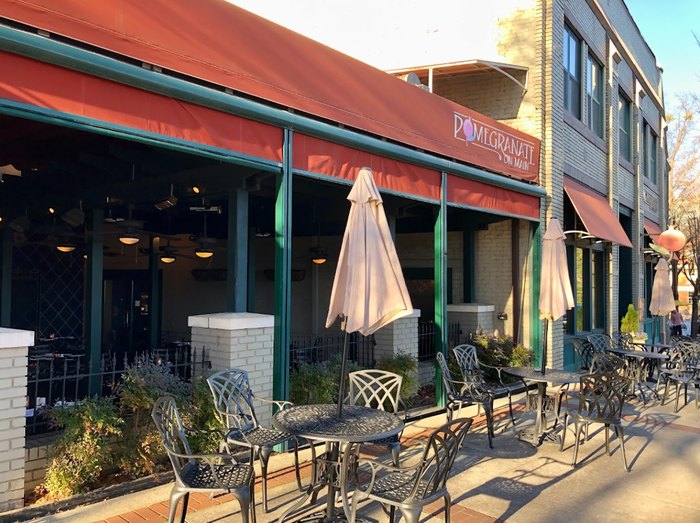 Whatever the occasion, you will not be disappointed in choosing this extraordinary restaurant with a crave-worthy menu. If you're visiting from out of town and need additional convincing to visit Greenville, we have at least 11 Reasons To Drop Everything And Visit! What are you waiting for? Check out the Pomegranate on Main website and the Pomegranate on Main Facebook page for more details.
Have you ever eaten at Pomegranate on Main? We'd love to hear all about it in the comments below!
OnlyInYourState may earn compensation through affiliate links in this article.
Address: Pomegranate on Main, 618 S Main St, Greenville, SC 29601, USA