This Mile Long Drive-By Christmas Lights Display In Rhode Island Will Make Your Holiday Season Magical
The holiday season is around the corner, and it's safe to say that we are very excited! Even when the air gets chilly, there are so many exciting events that start up to help stave off that chill and let us enjoy this gorgeous time of year. If keeping warm is of particular importance to you, you might want to enjoy the Confreda Farms holiday light show with a drive through experience like this one. You can even bring along a hot chocolate and some blankets to make it an extra cozy adventure.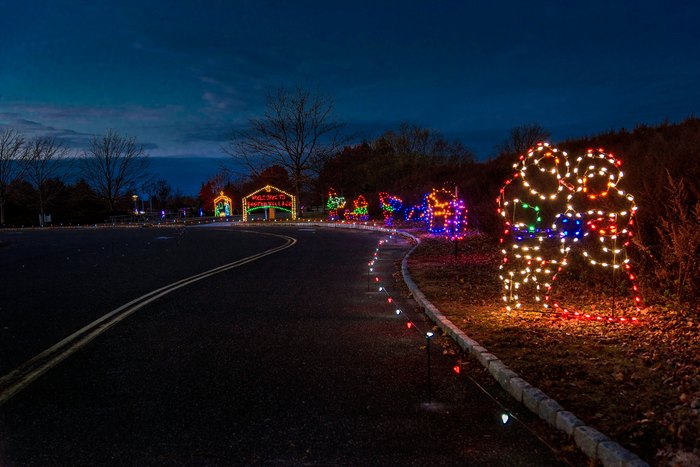 The Rhode Island Holiday Light Show is open on select dates from Nov. 19 through Dec. 31, 2022. You'll want to make sure to check the Holiday Light Show's website and Facebook page for ticket information and sneak peaks.
We think this looks like a delightful way to spend some time celebrating with loved ones. Have you done this Christmas light show drive thru? And are you planning a trip to see some drive through Christmas lights in Rhode Island?
Looking for more Rhode Island Christmas content? Check out the best Christmas towns in Rhode Island to visit this holiday season.
OnlyInYourState may earn compensation through affiliate links in this article.
Address: Confreda Greenhouses & Farms, 2150 Scituate Ave, Hope, RI 02831, USA
Confreda Farms holiday light show
October 24, 2022
How much snowfall does Rhode Island get each year?
Winter is an especially cold time of year in Rhode Island! There is still a lot of winter weather that passes through the Ocean State even if we are neither the coldest nor the snowiest area in New England. You might see anything from 20 inches (near the bay and Block Island) to more than 45 inches in Rhode Island, depending on where you are (inland, away from the coasts).
What are the best outdoor activities in winter in Rhode Island?
Rhode Island offers a ton of wintertime activities. Visit a frozen waterfall on a winter trek, take a cool beach stroll, look for a nearby sledding hill, or travel to Yawgoo for winter sports. It's time for the ice skates when nearby ponds freeze over, and you could even witness some ice fishing! Don't allow the chilly temperatures and howling wind to keep you indoors; dress warmly and venture outside to enjoy Rhode Island's winter.
What is winter like in Rhode Island?
The Ocean State can experience quite cold winters, however they are generally mild compared to its neighbors. It does, however, share some weather with its Massachusetts and Connecticut neighbors. January is the coldest month, with average lows around 20°F. But that doesn't mean you can't go outside and enjoy the beautiful outdoors just because it's chilly during the winter. In the winter, there are a variety of activities to do, including horseback riding, ice skating, sledding, and hiking. In our article, 9 Winter Activities For The Family In Rhode Island, you can find more suggestions for winter activities.
OnlyInYourState may earn compensation through affiliate links in this article.
Address: Confreda Greenhouses & Farms, 2150 Scituate Ave, Hope, RI 02831, USA