Take This Road Trip To The Most Charming Small Towns In Rhode Island
While cities are always lauded as the best places to visit, sometimes we need the quiet of small towns to help us relax and breathe some fresh air. You can go on this awesome Rhode trip to discover five of the best small towns in Rhode Island with less than two hours of total drive time. Follow our custom map, and add some stops of your own if you so wish, to make this an awesome day.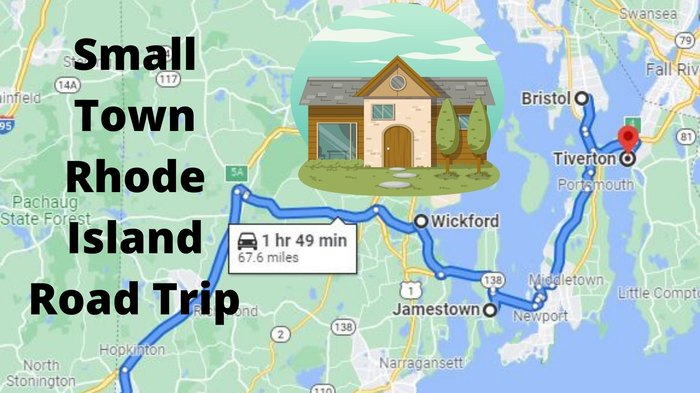 We are so excited about this road trip. With so little driving to do, there is lots of time to explore these small towns in depth and see a whole bunch! If you're passionate about seeing all that Rhode Island has to offer, here are some more awesome road trips to take. Which of these small towns in Rhode Island are you most excited to discover?
OnlyInYourState may earn compensation through affiliate links in this article.
More to Explore
Small Towns in Rhode Island
What are the smallest towns in Rhode Island?
If you liked this fun road trip, try another unique trip to the smallest towns in Rhode Island. Exeter is one such tiny place, with less than 6,500 residents calling it home. You can find some endlessly charming dining options here as well as exciting outdoor adventures like hiking. West Greenwich features another little population of just over 6,100 people and has some of the most peaceful outdoor locations you'll find anywhere in the state. Foster will remind you of your favorite classic movies with its beautiful old-fashioned structures and pretty grassy areas. You can go hiking around the area, too.
What is the oldest town in Rhode Island?
The oldest town in Rhode Island is, in fact, also the oldest town in all of New England! There's lots of history to be found here, as the state has been settled since way back in 1636. Narragansett housed a native people who sold Pawtuxet Village to Roger Williams in 1636, and it was built up by the English after that. Even though it was burned down during King Phillip's War, it was rebuilt and then survived another fire in 1772. This fire was considered the first act of the Revolutionary War, so there may not be anywhere more historically impactful in the whole area!
What is the creepiest town in Rhode Island?
Exeter is known as one of the smallest places on the map in our state, but did you know it's also sometimes known as the creepiest town in Rhode Island? Most of this reputation comes from the folklore of a vampire who lives here. Mercy Brown was a young woman who unfortunately died of tuberculosis when it was affecting many people in the area. There was a panic that followed as many people died and survivors tried to figure out the paranormal reasons behind the deaths. They began exhuming bodies of the dead to burn them and found that Mercy had barely decomposed and had apparently moved in her grave. People still whisper about this story to this day!
Related Articles