The Story Behind This Haunted Girl Scout Camp In Oklahoma Is Truly Creepy
When it comes to scary places, we're pretty sure it doesn't get worse than Camp Scott in Oklahoma. Haunting doesn't even begin to describe the story behind this old girl scout campground – the grounds were once the scene of the horrific and infamous Girl Scout Murders of 1977. Most Oklahomans remember the tragedy that struck this camp, but very few know the strange facts about these unsolved murders and the story behind this bloodstained camp. Is Camp Scott haunted? Maybe – see for yourself if you dare.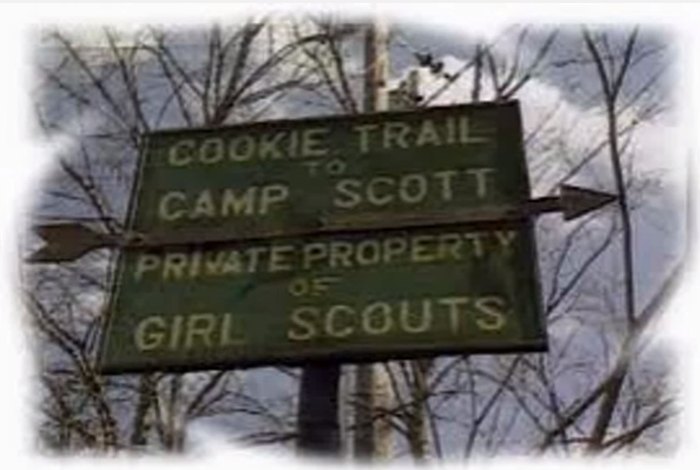 Interesting update as of 2023: The case of the Oklahoma Girl Scout Murders has been closed! Check out this interesting news story on why (and who):
Do you think it's possible that the spirit of Gene Leroy Hart is still haunting the grounds of this camp in the body of the mysterious dog? For another haunted location in Oklahoma, check out the Haunted Parallel Forest In Oklahoma. And for more ways to discover haunted (and regular) Oklahoma, Airbnb Experiences is the page for you.
OnlyInYourState may earn compensation through affiliate links in this article.
More to Explore
Girl Scout Murders
When were the girl scout camp murders in Oklahoma?  
The "Girl Scout Murders" was an appalling crime that occurred at Camp Scott in Mayes County on June 13th, 1977.
It is one of Oklahoma's darkest cold cases, and to this day, there are only theories as to who could have committed such a horrific act – especially against children.

The three victims were all between the ages of eight and ten years old, and they were sexually assaulted before being brutally killed.

Earlier in the day, a camp counselor had noticed a hand-written note in an empty donut box in her mysteriously ransacked tent; the note said

We are on a mission to kill three girls in Tent One.

The note was thought to be a prank and ignored until it was too late. 

 
Is Camp Scott Haunted?  
Well, if you ask the locals, they'll certainly tell you it is.
Following the brutal assaults and murders of the three girls in 1977, the camp was never reopened, but brave explorers still check the grounds out to this day.

I

t's located on private property, though it is occasionally accessed by urban explorers looking to see a ghost or two.

It's reported that sometimes, strange lights are seen in the woods where the camp is located, and folks have reported the screaming of young girls coming from "nowhere", too.

It's a creepy place, haunted or not – we think it might be one of the most haunted places in Oklahoma! 

 
Where are some of the most haunted places in Oklahoma?  
Oklahoma is no stranger to haunted places, though – there are lots of supposedly haunted places in Oklahoma, many of which you can still visit today.
In Weatherford, Oklahoma, you won't want to visit the bridge at night; it's said to be plagued by the ghosts of a woman named Mrs. James and her murdered child.

Deep in the Wichita Mountain Wildlife Refuge is an eerie place called the Parallel Forest, which is said to be haunted by everything from spooks to demons.

In Catoosa, there's the old Timber Ridge Cemetery.

In Oklahoma City, the Skirvin Hotel is thought to be one of the most haunted places there is. 

 
Related Articles