The Haunted Parallel Forest In Oklahoma Is Not For The Faint Of Heart
If you've been to the Wichita Mountains, you've encountered picturesque scenery, waterfalls, rugged terrain, and diverse wildlife. But there's one place most visitors don't know exists – The Parallel Forest. The 'haunted' Parallel Forest in Oklahoma was built by the federal government as an experiment to deal with the effects of the Dust Bowl. Over 20,000 red cedars were planted exactly 6 feet apart in every direction on over 16 acres.
As you can imagine, a creepy forest that is so uniform looking has brought with it many creepy stories of hauntings, urban legends, satanic rituals, and everything else that would scare the living daylights out of you. Take the journey to this haunted forest and see what encounters you stumble upon in this misfit piece of land.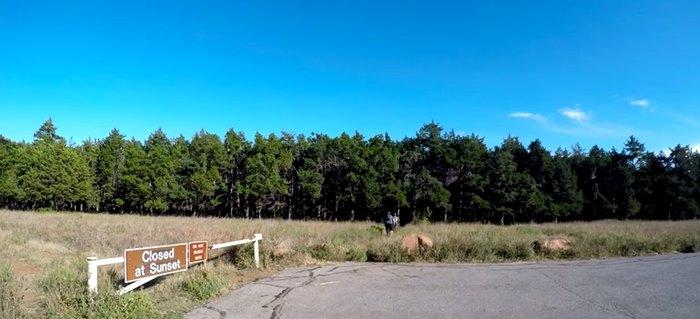 If you enjoyed reading about the haunted Parallel Forest in Oklahoma, take a look at this Haunted Oklahoma Road.
OnlyInYourState may earn compensation through affiliate links in this article.
Address: Parallel Forest, Meers Rd, Lawton, OK 73507, USA
Spooky Places In Oklahoma
August 28, 2022
Where are some spooky places to visit in Oklahoma?
For whatever reason, Oklahoma is a state filled with ghosts. Or maybe just very good stories about ghosts. Or both? There is one story about a witches' grave at the Hillside Mission Cemetery, where there are reportedly loud shrieks at night. Have you heard about the Skirvin Hotel where NBA players famously prefer not to stay while in town?  (Many players complain about the sensation of a ghost tormenting them.) There is even a haunted bridge. If visiting spooky places in Oklahoma sounds fun, then you will enjoy the road trip article entitled: Here's The Ultimate Terrifying Oklahoma Road Trip And It'll Haunt Your Dreams.
There are loads of creepy places in Oklahoma. For instance, Camp Scott was located in Locust Grove and currently sits in ruins. The backstory involves a grisly homicide and possibly some dark magic. Folks who visit report feeling more and more creeped out as they get closer. Some say the area's "evil vibe" makes it the most frightening place in Oklahoma. 
Maybe you are interested in staying at a Victorian bed and breakfast that once operated as a funeral home? Reading The Story Behind Oklahoma's Most Haunted House Will Give You Nightmares is all that most will require to feel spooked. Feel free to stay there though. Lots of people have been scared while visiting, but no guests have been hurt by a ghost.
Fort Reno is an old military camp. It's also famous for being haunted. It's fun though because you can pay to take a tour, which makes some of us feel much safer. (I'll visit here, but not Camp Scott… no way!)
If you are interested in any of these places, we sure hope you make the effort to experience some of them. Please let us know if you do. Are you aware of other spooky spots in Oklahoma? Please leave a comment so we can find out more!