Most People Don't Know These 15 Hidden Treasures Are Hiding In Ohio
Ohio can keep a secret. From hidden ghost ships and long-forgotten pieces of history, to rare collections and natural land formations you won't find anywhere else in the world, you never really know what sort of secrets Ohio is keeping until you decide to go out and find them for yourself. The following are just 15 the best-kept secrets and little-known hidden treasures in Ohio. Let's take a look…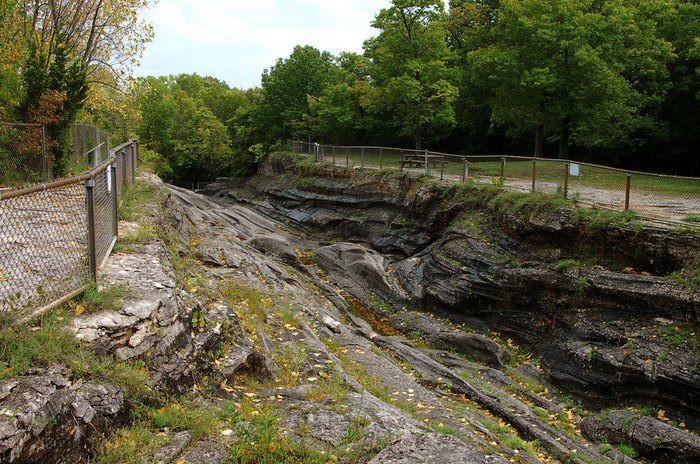 Have you explored any of these hidden treasures in Ohio for yourself? Share your experiences and photos with us in the comments below!
OnlyInYourState may earn compensation through affiliate links in this article.
Address: Glacial Grooves, 739 Division St, Kelleys Island, OH 43438, USA
Address: Newbury Township, OH, USA
Address: Loveland Castle Museum, 12025 Shore Dr, Loveland, OH 45140, USA
Address: Ohio Caverns - Open All Year, 2210 OH-245 E, West Liberty, OH 43357, USA
Address: American Sign Museum, 1330 Monmouth Ave, Cincinnati, OH 45225, USA
Address: Dysart Woods Park, 61961 Dysart Woods Rd, Belmont, OH 43718, USA
Address: Hartman Rock Garden, 1905 Russell Ave, Springfield, OH 45506, USA
Address: The Mohicans Treehouse Resort and Wedding Venue, 23164 Vess Rd, Glenmont, OH 44628, USA
Address: Whitehall, OH, USA
Address: Castle Noel, 260 S Court St, Medina, OH 44256, USA
Address: The Temple Of Tolerance, 203 S Wood St, Wapakoneta, OH 45895, USA
Address: Pyramid Hill Sculpture Park & Museum, 1763 Hamilton Cleves Rd, Hamilton, OH 45013, USA
Address: Piatt Castle Mac-A-Cheek, 10051 Township Rd 47, West Liberty, OH 43357, USA
Address: Chippewa Lake, OH 44215, USA
Hidden treasures in Ohio
August 03, 2021
What are some other hidden treasures in Ohio?
The Buckeye State is an amazing place to explore, and you'll find some truly unique hidden treasures in the state. We like pointing folks to this road trip, which visits nine of the state's coolest hidden gems. Notable hidden treasures on the road trip include: Dogwood Pass in Beaver that's an impressive replica of an Old West town tucked away in the hills of southern Ohio; Great Serpent Mound in Peebles, the largest (and most strangely shaped) effigy mound in the world that measures 1,348 feet long and, as its name suggests, is in the shape of a giant serpent; and finally, Sugarcreek MetroPark, a Bellbrook destination that features its very own tunnel of trees, the Osage Orange Tunnel.
Are there many places to explore in Ohio?
Yes! If you enjoy road trips, weekend getaways, world-class attractions, day hikes, or thrilling, adrenaline-pumping experiences, any combination of the above, you'll be right at home here in the Buckeye State. Check out our Ultimate Guide To Ohio's Best Attractions -- it has the very best of the best in terms of Buckeye State adventures. Bucket-list-worthy adventures on this list include Highfield Discovery Garden, a whimsical fairy tale fantasy park in Cincinnati; the LM&M Railroad, a hidden gem located in historic Lebanon (about 40 minutes from Cincinnati) that offers scenic excursions throughout the year that are memorable adventures; Zoombezi Bay, a water park that's located across from the Columbus Zoo and Aquarium that boasts 17 water slides, an amazing wave pool, private cabanas, a lazy river, and a kiddie play area; and Young's Jersey Dairy, a Yellow Springs farm is one of the most beloved family-friendly destinations in the state, offering a wholesome experience that's unique and memorable.
What are some little-known hidden gems in Ohio?
One of our favorite little-known gems in Ohio is Dysart Woods in Belmont. Tucked away in the southeastern part of the state and carefully preserved by Ohio University, Dysart Woods is a 50-acre tract of old-growth oak forest few Ohioans know about. The entire forest spans 455 acres, and is the largest remaining tract of old-growth forest in southeastern Ohio. The park's 50 acres is home to giant oaks that are more than 400-years-old! Often referred to as a "Land of Giants," this spectacular forest is home to some really beautiful trees, some of which stand more than 140 feet tall with a diameter of four feet.