Take A Mini Summer Road Trip In Ohio To Discover Awesome Tubing And Tasty Tacos
Whether you've been a fan of Only In Ohio for years or just a few weeks, you might have noticed our obsession with road trips in Ohio. But what about the simple and wildly underrated day trip? With little – or no – planning, just a single free day, and as is the case here, a single tank of gas, day trips are just as fun as longer road trips, but with just a fraction of the effort.
So, to celebrate the humble day trip and kickoff summer one of the best ways we know, we recently launched our Only On A Tankful series, which features four unique day trip destination pairings across the great state of Ohio. First, there was wine and waterfalls, then antiques and ice cream, and today, we're pulling out all the stops with tacos and tubing. Whether you live near Cincinnati, Cleveland, or anywhere in between, you'll discover an adventurous day trip that combines two glorious activities: eating tacos and spending time outdoors in an innertube (or any other type of small watercraft). What are you waiting for? Choose your adventure, fill up the tank and enjoy a picture-perfect day spent exploring the Buckeye State.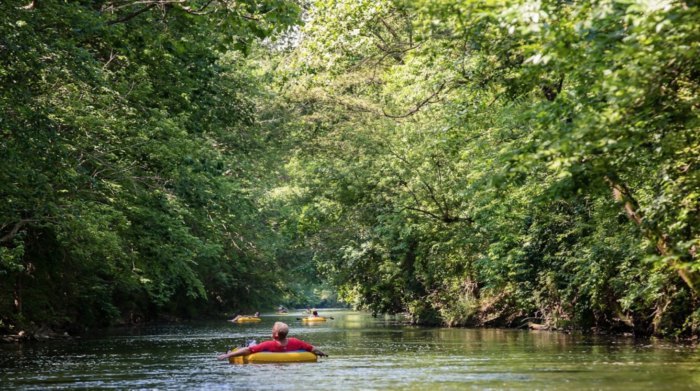 So, tell us, which of these epic tacos and tubing road trips in Ohio will you be embarking on first?
Don't forget to check back in two weeks to discover our fourth and final epic day trip destination pairing – only in Ohio, and only on a tankful. Any guesses as to what we have planned? If you liked this, please follow Only In Ohio on Facebook and sign up for Ohio's daily newsletter so you can discover even more fun and unique things to do throughout the state.
OnlyInYourState may earn compensation through affiliate links in this article.
Road trip in Ohio
May 14, 2022
What's another fun road trip to take this summer in Ohio?
We mentioned this attraction above, but Hocking Hills really is one of the best day and road trip destinations in Ohio... especially during the summer! This inexpensive road trip in Ohio is amazing because not only can you explore literally dozens of caves and waterfalls within this Eastern Ohio wonderland, but you can also enjoy some truly amazing camping and glamping here, too! Hocking Hills State Park in Logan, Ohio, features seven hiking areas, as well as mountain biking trails and a plethora of other amusements and amenities. We love that many of the hikes and waterfalls here are super accessible, so hikers of all ages and skill levels can wander the trails. Many are handicap-accessible, too, which only makes us love Hocking Hills all the more. If you're looking for a fun and scenic day trip destination in Ohio this summer, this is it!
What are some hidden gems to visit in Ohio?
Ohio is full of one-of-a-kind sites places to stop you dead in your tracks. From amazing roadside attractions to magnificent natural wonders, themed restaurants to places that simply defy explanation, the Buckeye State is home to some wholly unique sites that simply must be experienced in person. So of course, we've designed an amazing road trip to do just that! Buckle up, prepare your playlist, and get ready to visit some of the most iconic landmarks in Ohio. Of course, if you're looking for singular destinations for your summer road trip bucket list, we definitely recommend visiting hidden gems in Ohio such as Giant Serpent Mound, Pyramid Hill Sculpture Park, the Loveland Castle, Sugarcreek MetroPark, Clifton Mills, Young's Jersey Dairy, Topiary Park, Franklin Park Conservatory, the Schoolhouse Restaurant, the American Sign Museum... and that's just the beginning of the amazing treasures that you'll find in the Buckeye State!