Here's The Perfect Weekend Trip If Love Exploring Ohio's State Parks
Do you need a little adventure in your life? Ohio's state parks are the perfect places to explore when you need just that. The next time you find yourself with a free weekend and a sense of adventure, considering take a mini road trip to some of Ohio's best state parks. We've put together the perfect weekend itinerary for some beautiful hiking and quality time in nature. The following four state parks to visit in Ohio are some of our favorites, and we hope you enjoy exploring them as much as we do! Let's go on a little adventure…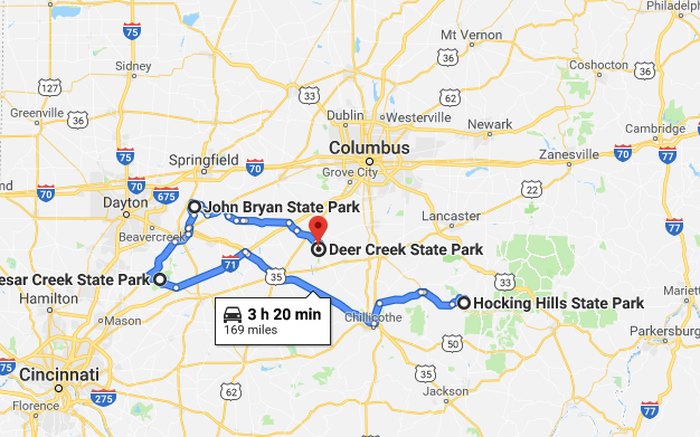 Have you explored any of these state parks? What other state parks to visit in Ohio would you add to this road trip? Share your thoughts, photos and experiences with us!
For more underrated state parks in Ohio, check out our previous article: 11 Under-Appreciated State Parks In Ohio You're Sure To Love.
OnlyInYourState may earn compensation through affiliate links in this article.
state parks to visit in Ohio
January 11, 2022
How many state parks are there in Ohio?
We absolutely adore our state parks here in the Buckeye State... and we have a lot of 'em, too! Open every day and always free, Ohio's 75 state parks provide a refuge from daily life. Boating, hiking, camping and fishing are just a few of the outdoor adventures that await you at Ohio State Parks! Which one is your favorite?
Does Ohio have any national parks?
We do! One of Ohio's best-kept secrets, Cuyahoga Valley National Park is a place of immense natural beauty and splendor. Ohio's only national park is located just a short drive from Akron and Cleveland, but it feels like an entire world unto itself. In the fall, Cuyahoga's sugar maples and oak trees paint its trails in bright red and orange hues, rewarding hikers with a dazzling display of color; in the spring, you'll find verdant foliage and an abundance of wildlife. And during the winter? Well, if you're lucky, you might just see a frozen waterfall! If you're up for a more intense trek, the Brandywine Gorge Trail is one of the best places to soak up the park's natural beauty; hike up to the 65-foot Brandywine Falls to see panoramic park views in all directions. Of course, if you want a more leisurely scenic experience in Ohio's one and only national park, hop aboard the Cuyahoga Valley Scenic Railroad for a scenic ride through the park that will render you speechless.
What are some must-visit state parks in Ohio?
We have amazing parks all across the state, and some of our favorites are total under-the-radar gems. In Delaware, Alum Creek State Park is home to an eponymous reservoir that holds 3,387 acres of water and is open to fishing, boating, ice fishing, ice boating, and swimming. In northern Ohio, Mohican State Park is a vision. Surrounded by the 4,525-acre Mohican-Memorial State Forest, this beautiful state park sits just outside of the quiet, small town of Loudonville. Read about more of our favorite Ohio state parks here.