These 6 Haunted Cemeteries In Ohio Are Not For The Faint Of Heart
Ohio has quite the haunted reputation. (Case in point; 13 Reasons Why Ohio Is The Most Terrifying, Spookiest State.) So it's not surprising that there are numerous haunted cemeteries in Ohio, home to restless spirits that knock on mausoleum doors, guard gravesites, and even move headstones. The following are some of Ohio's most haunted cemeteries, which you can visit with help from this Google Map that we've created… if you dare.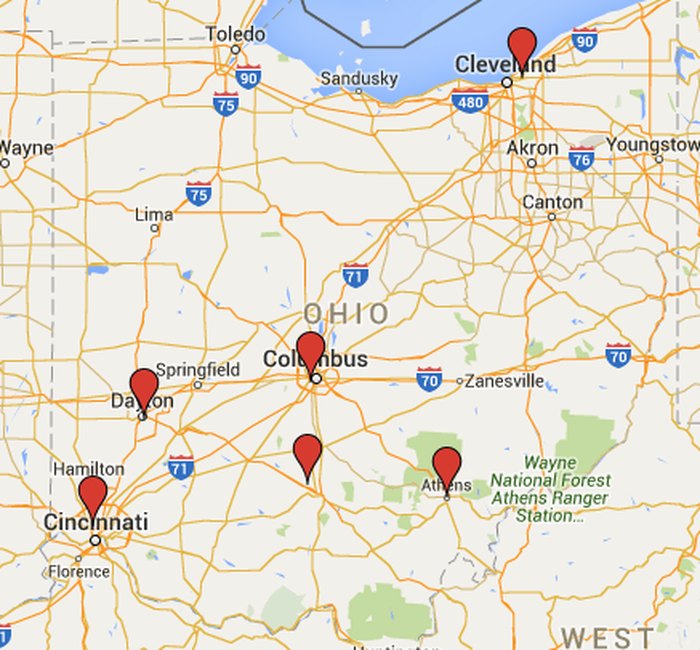 Have you ever been to any of these cemeteries? What other cemeteries in Ohio are infamously known for hauntings or unsettling statues and gravesites they host? Share your picks for most haunted cemeteries in Ohio with your fellow ghost hunters below!
Share your experiences with us and be sure to check out our previous article: The Ultimate Terrifying Ohio Road Trip Is Right Here — And You'll Want To Do It.
Address: Radar Hill Trail, Athens, OH 45701, USA
Address: Green Lawn Cemetery, 1000 Greenlawn Ave, Columbus, OH 43223, USA
Address: Lake View Cemetery, 12316 Euclid Ave, Cleveland, OH 44106, USA
Address: Woodland Cemetery and Arboretum, 118 Woodland Ave, Dayton, OH 45409, USA
Address: Spring Grove, 4521 Spring Grove Ave, Cincinnati, OH 45232, USA
Address: Pleasant Valley Road, Pleasant Valley Rd, Chillicothe, OH 45601, USA
Haunted Cemeteries in Ohio
August 22, 2022
What are the most haunted places in Ohio?
The above list of haunted cemeteries is merely the tip of the iceberg when it comes to haunted places in Ohio. Looking for more spooky and bone-chilling haunts in Ohio? Check out The Ohio State Reformatory, a downright terrifying spot in Mansfield; Hotel Lafayette in Marietta, a hotel that's known as one of the most haunted in the state (next to the Golden Lamb in Lebanon, that is!); Beaver Creek State Park; Lake View Cemetery; and more!
In terms of haunted towns in Ohio, Athens takes the cake. In addition to the Athens Lunatic Asylum, which we covered above, Ohio University is arguably one of America's most haunted college campuses, (probably because it's located in one of Ohio's most haunted cities). Several residence hall rooms and other buildings on campus are said to be haunted. Wilson Hall, Washington Hall, and Jefferson Hall are some of the most haunted buildings on campus.
Helltown is another no-go for those afraid of ghosts in Ohio. Formerly Boston Village, this Ohio locale was founded in the early 1800s and existed until the '70s when the town was mysteriously purchased by the government with plans to create a national park. This ghost town of abandoned buildings and boarded up houses is also commonly associated with hauntings. There are all sorts of legends surrounding this creepy community, in fact — and most terrifying? To some extent, the legends are true. Boston Heights' old Krejci Dump led to massive contamination, necessitating a large scale cleanup. This caused the placement of signs warning of toxic waste, which eventually led to some of Helltown's most iconic rumors. Visit Boston Heights, Ohio, to explore this legend in real life.
Address: Radar Hill Trail, Athens, OH 45701, USA
Address: Green Lawn Cemetery, 1000 Greenlawn Ave, Columbus, OH 43223, USA
Address: Lake View Cemetery, 12316 Euclid Ave, Cleveland, OH 44106, USA
Address: Woodland Cemetery and Arboretum, 118 Woodland Ave, Dayton, OH 45409, USA
Address: Spring Grove, 4521 Spring Grove Ave, Cincinnati, OH 45232, USA
Address: Pleasant Valley Road, Pleasant Valley Rd, Chillicothe, OH 45601, USA