The Ultimate Terrifying Ohio Road Trip Is Right Here — And You'll Want To Do It
In case you hadn't noticed, Ohio is downright creepy compared to other states. It's full of spooky, abandoned places nature is reclaiming, haunted hotels and eerie houses that have been restored in hopes of chasing the restless spirits away. If you enjoy some spooky thrills, then you'll want to pay a visit to the following haunted destinations along this road trip—but beware, because they're some of the creepiest places in Ohio. The total trip takes a little more than nine hours of drive time. We've included a link to the Google Map here.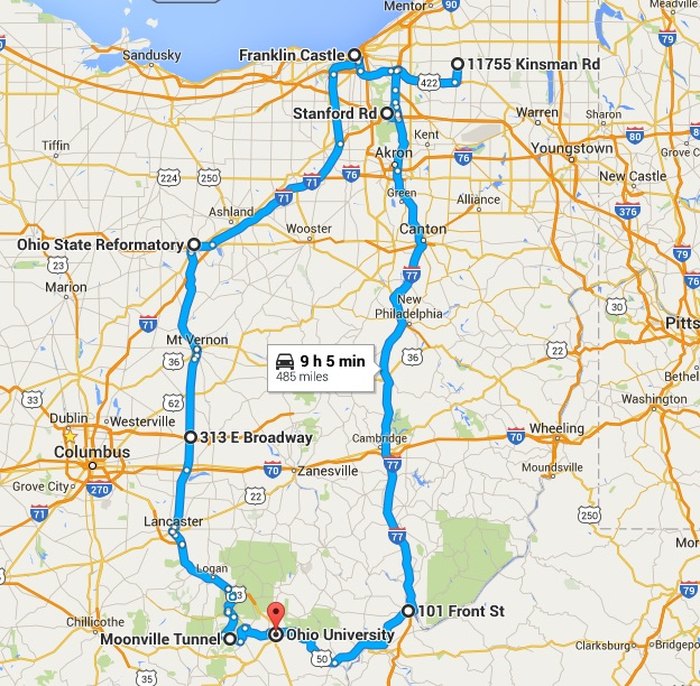 What do you think? Are you brave enough for this creepy Ohio road trip? How many of these haunted destinations have you been to before? Share your thoughts with us in the comments below!
OnlyInYourState may earn compensation through affiliate links in this article.
Creepiest Places in Ohio
June 18, 2019
What is the most haunted place in Ohio?
It is difficult to determine the most haunted place in Ohio because there are several haunted places in Ohio. The campus of Ohio University and The Ohio State Reformatory are considered to be two of the most infamous haunted places in the Buckeye State. The most haunted state park is probably Beaver Creek State Park, where legend has it two canal locks in the park are haunted by ghosts of canal workers who died on the job.
What is the creepiest abandoned place in Ohio?
Although most of Ohio's ghost towns are gone, there are still some abandoned and scary places in Ohio that prohibit trespassing. One of the creepiest abandoned places in Ohio that you can no longer explore are the remnants of Chippewa Lake Amusement Park in Medina. The park officially closed in 1978 but in the summer of 2008, a horror movie titled "Closed for the Season" was filmed at the abandoned amusement park. Very few remnants of the park remain, such as a rusty Ferris wheel with a tree growing through it.
What is the most haunted town in Ohio?
There is one small town in Ohio that's more haunted than the rest. Within Wayne Township in Warren Country, you'll find the village of Waynesville. It's a quaint, historic town with a population of approximately 2,834—but it's rumored to have more than 30 haunted places. This seemingly normal small town was actually deemed "the most haunted village in Ohio" by author Chris Woodyard' of the popular Haunted Ohio books. Today, the village of Waynesville actually offers seasonal ghost tours and ghost hunter classes at select times throughout the year, making it one of the most haunted places in Ohio.