The Ultimate Bucket List For Anyone In Cleveland Who Loves Waterfall Hikes
On the lookout for some of the best hikes in Cleveland and its neighboring communities? Why not combine your next stroll with an extra dash of natural wonder: a waterfall? After all, there's something humbling about waterfalls. The power and majesty they possess have the ability to make us feel like a tiny piece of the universe, awe-struck before something just as serendipitous as but more everlasting than ourselves. Waterfalls, additionally, are simply visually stunning, adding an ironic hint of softness to bold, vibrant environments. When you're searching for day trips in Cleveland and beyond, we've got you covered.
Our city is unique in that Cleveland and its surrounding suburbs feature countless waterfalls — and many of them are on public property and easily accessible. When you're ready to plot your next outing, read about the best hikes in Cleveland and beyond for those who adore waterfalls.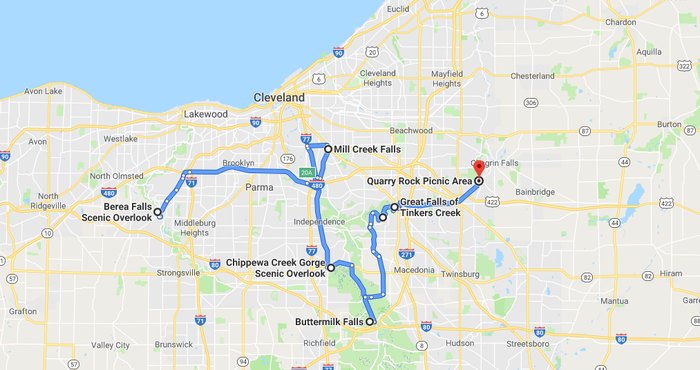 Now that you're tuned in to some of the best hikes in Cleveland and the immediate vicinity for waterfall fanatics, it's time to start planning! Which of these spots will make it onto your next family outing itinerary? We know that this list only scratches the surface when it comes to beautiful natural attractions in Cleveland, so share your other day trip destinations in Cleveland by completing our nomination form or leaving us a Facebook comment.
Want to add one more waterfall to your list? Be sure to read all about this cemetery waterfall in Cleveland.
OnlyInYourState may earn compensation through affiliate links in this article. As an Amazon Associate, we earn from qualifying purchases.
More to Explore
Best Hikes In Cleveland
Are there any other must-visit hiking trails in Cleveland?
Waterfall hikes have their delights, but there are loads of other places to stretch your legs throughout Greater Cleveland -- whether or not you're chasing waterfalls. If you're particularly keen on trails that won't leave you feeling overexerted, you'll want to learn about the best short hikes in Cleveland, ranging from a loop trail at Bedford Reservation to a charming hike within North Chagrin Reservation. These spots make for ideal family day trips.
Speaking of family, are there any kid-friendly hikes in Cleveland?
If you've got little ones, you know that they don't always make for the perfect hiking companions. Between fatigue, potentially challenging terrain, and unpredictable weather, it can be tough to bring children along on your trail outings. Luckily, there are plenty of kid-friendly hikes in Cleveland and its neighboring areas -- including the Wake Robin Boardwalk Trail and the Mayfield Village Wetlands Trail. You'll be having fun with the whole crew in no time!
What are some other outdoor activities in Cleveland?
For those who appreciate fresh air, Greater Cleveland has loads to offer. While the city might not be as famous for its natural beauty as other regions of the country, its outdoor charms are nearly unlimited. We've put together a Cleveland nature bucket list for those who want to dive into the area's natural attractions headfirst -- and those who follow our suggestions will experience everything from botanical gardens to picnic sites. What are you waiting for? Get exploring!
Related Articles