These 7 Abandoned Places In Cleveland Are Absolutely Haunting
Editor's Note: Since the original publication, some of the following locations may no longer be accessible or still standing. 
There's a certain beauty in an abandoned building. The deterioration of a place that has been abandoned for a decade or more makes for a fascinating look at how we live. These abandoned places in Cleveland and the surrounding area each have a story to tell through their crumbling facade.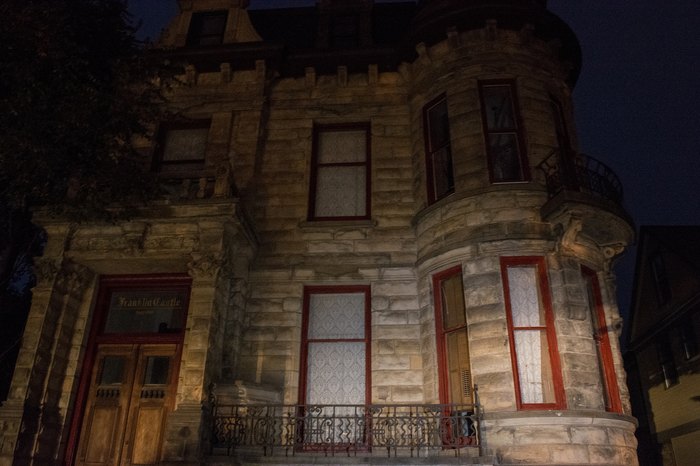 Have you been to any of these haunting abandoned places? Tell us what your experience was like in the comments. Of course, we don't advocate for trespassing — so explore at your own risk!
Address: 4308 Franklin Blvd, Cleveland, OH 44113, USA
Address: 14711 Harvard Ave, Cleveland, OH 44128, USA
Address: Euclid Square Mall, Euclid, OH 44132, USA
Address: Detroit-Superior Bridge, Cleveland, OH 44113, USA
Address: East 131st Street, E 131st St, Cleveland, OH, USA
Address: Warner And Swasey Observatory, 1975 N Taylor Rd, Cleveland, OH 44112, USA
Address: West 53rd Street, W 53rd St, Cleveland, OH 44144, USA
Haunted Places in Cleveland
September 08, 2022
Are There Any Haunted Restaurants Or Bars In Cleveland?
Built in the 1840s as a private residence, Don's Pomeroy House is now on the National Register of Historic Places and boasts an entertaining dining experience. While the word elegant can be used to describe the restaurant, many may also define the atmosphere as haunted. Ghostly images have been reported by staff, and as the building was once known as The Pomeroy Ghost House, it's no surprise this is one of Cleveland's most haunted restaurants. Although not likely to send chills down your spine, The Haunted Restaurant in Cleveland Heights makes for a memorable dining experience. Whether Halloween is just around the corner or you're simply looking for a frighteningly good time, the horror-movie themed restaurant is sure to leave you feeling haunted.
What Are The Most Haunted Places in Cleveland?
Erie Street in downtown Cleveland is without a doubt one of the most haunted places in the city. The street is home to a nine-acre cemetery and some of the ghosts that still haunt the land are so infamous, that they are known by name.   Near Cleveland is the historic and haunted Farnam Manor. The 3,400-acre property has a history that dates back to the 1600s and its lifespan has included being home to battlefields and speakeasies.  Today the manor is a museum, and both guides and ghosts offer visitors a unique glimpse into local history.   One of Cleveland's most haunted neighborhoods is Ohio City.  Just west of downtown, Ohio City has all the makings of a good haunt: urban legends, historic buildings, and cemeteries.
Address: 4308 Franklin Blvd, Cleveland, OH 44113, USA
Address: 14711 Harvard Ave, Cleveland, OH 44128, USA
Address: Euclid Square Mall, Euclid, OH 44132, USA
Address: Detroit-Superior Bridge, Cleveland, OH 44113, USA
Address: East 131st Street, E 131st St, Cleveland, OH, USA
Address: Warner And Swasey Observatory, 1975 N Taylor Rd, Cleveland, OH 44112, USA
Address: West 53rd Street, W 53rd St, Cleveland, OH 44144, USA