There is a surprisingly large collection of abandoned sites in Ohio: buildings, homes, and entire towns. Today's feature destination is yet another eerie example of a neighborhood that was once thriving but today sits completely empty. Perhaps what's most captivating of all is the fact that this town hasn't been long abandoned. In fact, as recently as 2019, some of the homes here were still occupied. The following photographs, captured by photographer Johnny Joo, showcase the hauntingly lonely neighborhood of Woodcliff, Ohio.
Editor's Note: Due to the nature of abandoned destinations, many of the places featured in this series are off-limits to visitors or have actually been demolished. We do not condone trespassing and other illegal activity but rather encourage readers to enjoy learning about these fascinating destinations.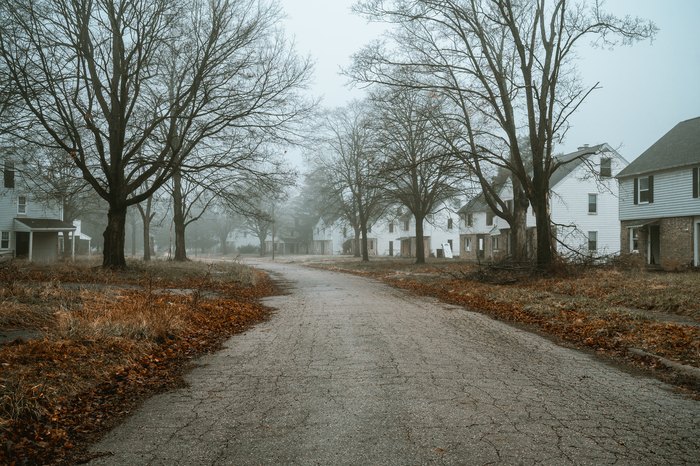 For more images of these abandoned homes in Ohio, you can check out Johnny Joo's website, Architectural Afterlife. What are your thoughts on this abandoned neighborhood in Ohio? Have you ever visited Woodcliff? Feel free to share your thoughts with us in the comments below – we'd love to hear from you!
To learn about even more spooky places and abandoned houses in Ohio, check out some of our state's most unique ghost towns. These abandoned places are living museums of Ohio's past, and are absolutely fascinating! However, if some literal ghosts are to your liking, these ghost tours in Ohio are sure to spook.
OnlyInYourState may earn compensation through affiliate links in this article. As an Amazon Associate, we earn from qualifying purchases.
More to Explore
Woodcliff, Ohio
Are there any haunted hotels in Ohio?
With a vibrant, diverse history that has stood the test of time, it's no wonder that Ohio is considered one of the most haunted and paranormally active corners of the country. The state's hotels are particularly full of history and reported supernatural events. Here are just a few of the most haunted hotels, inns, and B&Bs in Ohio:
The Buxton Inn, Granville
The Golden Lamb Inn, Lebanon
The Hackett Hotel, Marietta
Hilton Cincinnati Netherland Plaza
Lafayette Hotel, Marietta
Park Hotel, Put-in-Bay
Punderson Manor, Newbury
Spitzer House Bed and Breakfast, Medina
Spread Eagle Tavern and Inn, Hanoverton
What are some other haunted places in Ohio?
Ohio's specters don't just hunker down in the state's spookiest hotels, they can be found in cemeteries, restaurants, old asylums, and much more. However, do keep in mind that many of Ohio's most haunted places are private property - so stick with drive-bys and official tours.
Franklin Castle, Cleveland
Greenlawn Cemetery, Columbus
Lockkeepers, Cleveland
Mansfield Reformatory, Mansfield
Moonville Tunnel, McArthur
Mount Union-Pleasant Valley Cemetery, Chillicothe
The Oliver House, Toledo
Woodland Cemetery, Dayton
Does Ohio have any cool historic mansions?
Gothic, Victorian, Colonial, and everything in between, Ohio's historic districts are chock full of unique homes that stand out from their surroundings. Many of these homes were once owned by historical figures, and today house fantastic specialty museums, boast incredible architecture, and even house lavish gardens. In nearly every city, you'll find a few fantastic old-world mansions and homes that are worth a visit - whether for a special occasion, tour, or just for the history! Here are just a few cool historic houses and mansions around Ohio to check out:
Adena Mansion and Gardens
Birthplace of Ulysses Grant, Point Pleasant
Baum-Taft House, Cincinnati
Cooke's Castle, Put in Bay, Gibraltar Island
Glidden House, Cleveland
Grant Boyhood Home, Georgetown
Harding Home, Marion
Hawthorn Hill, Oakwood
Ida Saxton McKinley Historic Home, Canton
James A. Garfield House, Mentor
John Parker House, Ripley
Rutherford B. Hayes Presidential Center, Fremont
Thomas Edison House, Milan
Wildwood Manor, Toledo
William Howard Taft National Historic Site, Cincinnati
Related Articles
Explore Ohio
Featured Addresses

Woodcliff, Whitehall, OH 43213, USA