There's A Themed Bed and Breakfast In The Middle Of Nowhere In Northern California You'll Absolutely Love
Northern California definitely has some quirks that give it plenty of character. This bed and breakfast on the shores of Clear Lake is a prime example. It celebrates the history of this region in a fun and unique way. This is one fabulous place to stay that is a memorable way to take a fun and interesting vacation!
We can't get enough of the Featherbed Railroad Caboose Bed and Breakfast Resort in Nice. Here's why: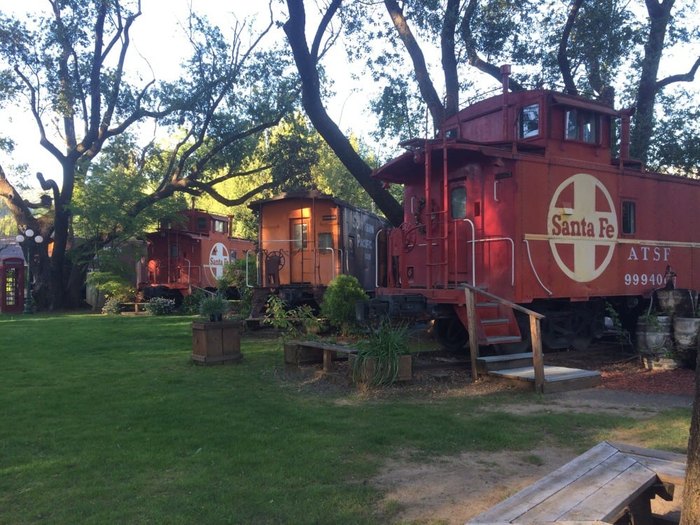 This charming B&B is located at 2870 Lakeshore Blvd, Nice, CA, 95464. You can learn more about Featherbed Railroad Bed and Breakfast Resort by calling 707-274-8378 or visiting them online.
Would you stay at this cozy and cute bed and breakfast? How do you think you would like sleeping in one of their cabooses? Will you make Featherbed Railroad Bed and Breakfast Resort your next place to stay? Let us know in the comments below!
And if you're looking for more unique places to stay in California, These 12 Unique Places To Stay In Northern California Should Go To The Top Of Your To Do List.
Address: Featherbed Railroad Bed & Breakfast, 2870 Lakeshore Blvd, Upper Lake, CA 95485, USA
Featherbed Railroad Bed And Breakfast Resort
February 06, 2021
Are there many bed and breakfasts in Northern California?
There are! Many of them are romantic, and the perfect place to escape for a weekend away from it all. There's so many all over, so figure out where you want to go and you can find a place that's perfectly suitable for your tastes!
Are there other railroad themed places to stay in Northern California?
Absolutely! The railroad played a big part of California's history, and many people want to pay homage to that. You'll find another great place to stay in Northern California, at the Railroad Park Resort. Boasting one of the most unique lodging experiences that Northern California has to offer, Railroad Park Resort has been providing delightful nostalgia since 1968. Here you can relive the romantic days of the railroad, an era that feels lifetimes away. At Railroad Park Resort, guests will find themselves sleeping in classic rail cars. It's an experience unlike any other, and it's absolutely charming!
What are some cozy places to stay in Northern California?
If it's hygee you're seeking, you've come to the right state! Northern California is home to some truly charming, comfortable, and cozy cabins. There's definitely a lot of options when it comes to lodging along the Northern California coastline, but one of the dreamiest destinations by far is White Rock Resort. Featuring oceanfront cabins that give you an unparalleled view of the Pacific, you'll be in heaven from the moment you arrive at this incredible destination, which you can read more about in this article.
Address: Featherbed Railroad Bed & Breakfast, 2870 Lakeshore Blvd, Upper Lake, CA 95485, USA