Journey Through The Redwoods To A Secluded Pumpkin Patch On The Pumpkin Express Train In Northern California 
The arrival of fall in Northern California means taking advantage of all that this season has to offer including an exhilarating ride on the Pumpkin Express Train. This year, you should put this ride at the very top of your list. Operated by the famous Skunk Train in Fort Bragg and Willits, this delightful excursion takes passengers through the majestic redwood forest and all the way to a pumpkin patch. This family-friendly outing promises fall festivities and breathtaking scenery at every turn. Curious to learn more? Here's everything you need to know about this year's fall train ride in Northern California.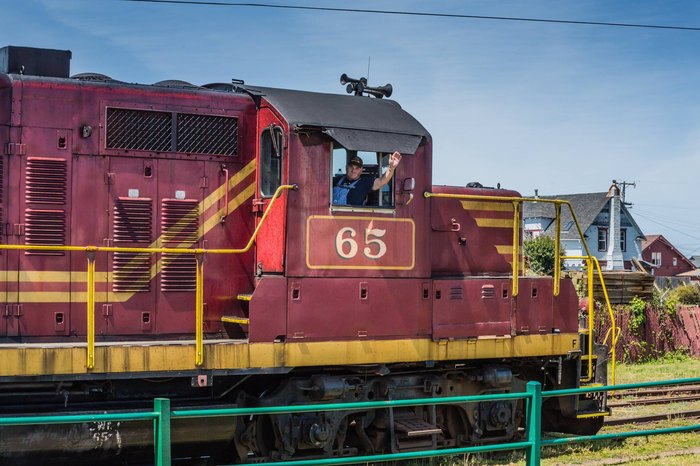 Ticket prices for this year's Pumpkin Express Train start at $59.95 for ages 3 and up. Babies 2 years old and under ride free on a lap, and the price for your dog is $10.95. In addition, a VIP ticket is available for $94.95, which includes advanced boarding, a commemorative gift, and priority concessions. Train fares include an eight percent Historic Preservation Assessment. Be sure to visit the official website to learn more about the Pumpkin Express Train in Northern California. It is the best fall train ride in Northern California.
Address: The Skunk Train, 100 W Laurel St, Fort Bragg, CA 95437, USA
Fall Train Rides In Northern California
August 26, 2022
Where is another pumpkin-themed train ride in Northern California?
The Pumpkin Patch Festival takes place this year on Oct. 15/16, 22/23, and 29/30, at the Western Railway Museum in Suisin City. The admission ticket includes a hay fort, tractor rides, a petting zoo, and pumpkin chucking. In addition, the tickets are good for rides on any trains to and from the pumpkin patch, which runs every 30-45 minutes from the museum to the pumpkin patch. Take your time choosing pumpkins to buy then catch a later train back. Enjoy some homemade refreshments, and help support the Rotary Clubs and the nonprofit museum at this annual fall fundraiser in Northern California.
Where is another one of the best fall train rides in Northern California?
This train ride at El Dorado Orchards in Northern California is perfect for a fall day. Open every Friday, Saturday, and Sunday for the harvest season, the staff welcomes you. The Apple Hill Train Rides are offered on those days from 9 a.m. to 5 p.m., with tickets available on site. This unique, fun experience has been an Apple Hill feature for more than 40 years. Create some new fall memories or a family tradition as you view the picturesque ponds which may contain a duck or two, and enjoy the relaxing day this countryside brings.
Where is another pumpkin patch in Northern California?
Arata's Pumpkin Farm in Half Moon Bay is the one-stop shop for all of your pumpkin needs. In addition to offering pumpkins in all shapes and sizes — there is so much more than pumpkins at this spooktacular pumpkin patch in Northern California. Relax and enjoy the view of the six-acre corn field and the Pumpkin River on a hay ride; extend yourself to the two-acre Minotaur's Labyrinth hay maze, and if you are feeling very brave, try the ever-so-frightening haunted barn. The little ones can enjoy the Play Land playground, guided pony rides, and a petting zoo.
Address: The Skunk Train, 100 W Laurel St, Fort Bragg, CA 95437, USA